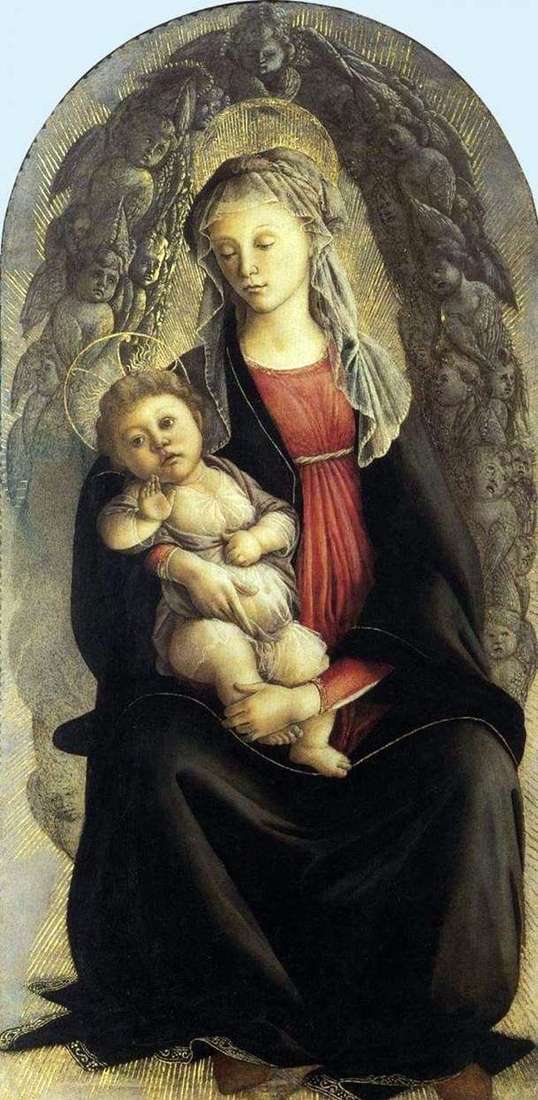 Based on the example of Philippe Lippi and Verrocchio, the artist gives an updated interpretation of the image of the Madonna. He extends the proportions of the figure, emphasizing the fineness of the hands.
On Maria's head, a transparent veil is a detail that he borrows from Lippi and will often repeat. Her attire loosely falls, not like the suit of a townspeople, which is typical of his teacher's pictures, which carry life associations. With her head drooping like a flower, the Mother of God looks touching and fragile, almost ethereal, although draperies plastically fit her body.
The
cherubim that form the halo around the head of the Madonna – this symbolic motif of glorification – only underline the humility of the image portrayed by Botticelli.
Mary sits on the clouds in the glory of the seraphim. On the baby's nimbus, a blood-red cross is depicted. His serious look Christ drew to the viewer, He raised his hand, blessing.
Botticelli managed to convey the intensity of emotions: the young Mother looks sadly at the Son, who will bear the punishment for the sins of the whole world. With her graceful hands, she presses His body to herself, as if trying to protect Him from all suffering.