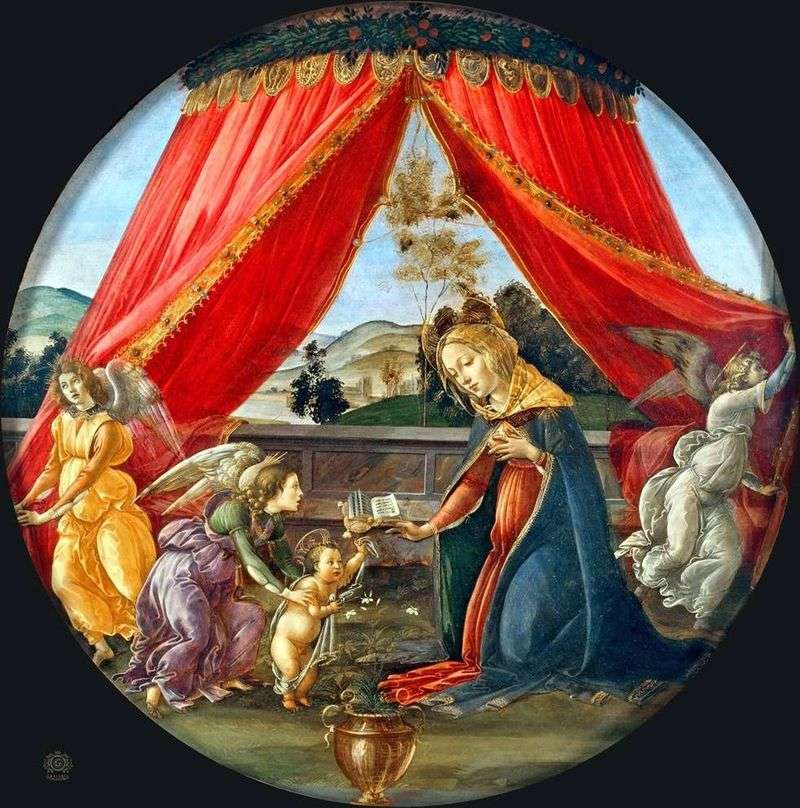 The painting was written for Guido di Lorenzo, the rector of Santa Maria degli Angeli and friend Lorenzo the Magnificent, whose name is associated with the period of the highest flowering of the Renaissance culture of Florence. In the 90 years in the works of the master symbolism acquires an emphatically mystical character, the themes of a moral and ethical order come to the fore. The sermons of the Renaissance reformer Girolamo Savonarola, who condemned humanistic culture, made a huge impression on Sandro Botticelli.
Unlike earlier paintings, now Botticelli puts an emphasis on conveying the inner feelings of the characters, and not on the exterior of the parade. For the late Botticelli is characterized by a small, excellent in the quality of performance of the tondo "Madonna under the canopy." Under the canopy of scarlet canopy, forming a tent, the edges of which are supported by two angels, the third angel brings to the kneeling Madonna of the infant Christ. A low marble parapet separates the first plan from a very subtly interpreted landscape with the calm smoothness of the river, the soft twists of the hills. The canopy motif acquires a special meaning.
Such a curtain Botticelli borrowed from the medieval church mysteries, where he was interpreted as a symbol of the higher heavenly sphere. It is a symbol of the sanctuary in which the Madonna and Child dwell, and the marble parapet sharply separates them from the rest of the world. The symbol of the highest perfection, not subject to the laws of the material world, is the Madonna itself – "the flesh that has almost become a spirit." In this picture, the purely Botticellian elegance, subtlety, which can serve as the best evidence of its authorship, has not yet disappeared. How Michelangelo created in his frescoes the symbol of the brave man's mighty fighter man, so Botticelli in his picture-poems created an image of a spiritual feminine beauty.