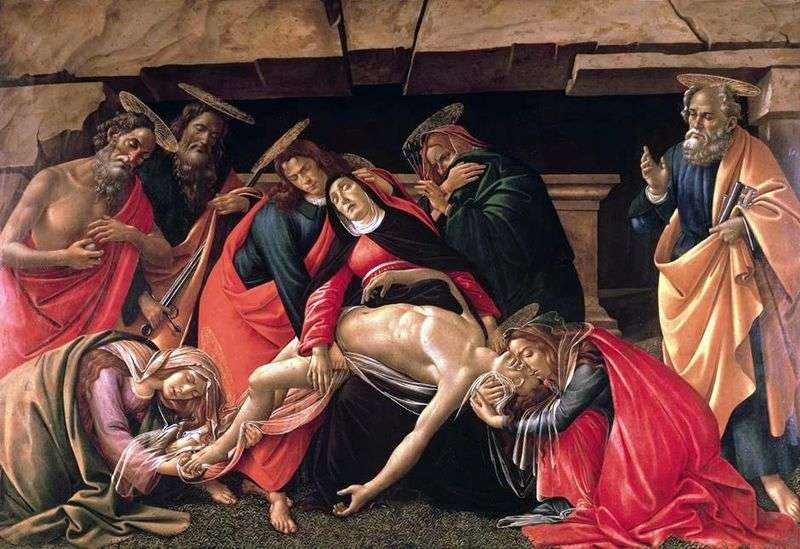 In the Munich "Position in the coffin" of Botticelli, the angularity and some woodiness of the figures, which make one recall a similar picture by the Dutch artist Rogir van der Weyden, are combined with the tragic pathetic of the Baroque. The body of the dead Christ with his heavily-fallen arm anticipates certain images of Caravaggio, and the head of Maria, who has lost consciousness, recalls the images of Bernini.
In this work, Botticelli rises to tragic heights, reaches an extraordinary emotional capacity and laconism.
The artist used the Gothic iconographic scheme – the Virgin
with the dead Christ on his knees, skillfully adding the group to the multi-figure composition.
Pictured against the background of a rock with a dark cave entrance and a stone sarcophagus, all the figures of the stage lean towards its center, creating a tense inner field filled with their sorrow and the tragedy of what happened. Their restrained but expressive gestures, intensive painting colors – all this makes an indelible impression of a high degree of dramatic spectacle.
Mary grieves, embracing the Savior's body lying on her lap – a young beautiful body with perfect proportions, as if shimmering with inner light. Attention is drawn to the fallen hand of Christ, this motif, used in medieval sculpture, thanks to Botticelli gained new figurative expressiveness and will henceforth become an example of the rare success of the plastic completion of the image.
The first series of composition form two symmetrical inclined figures – two Marys, hugging and kissing the head and feet of Jesus. On the edges of the sarcophagus are apostles: to the left Paul with a sword in his hands, to the right Peter with keys from the Kingdom of Heaven.
Some researchers attribute it to the late 90's; according to others, this picture arose later, in the first years of the XVI century, as well as paintings from the life of St. Zinoviy.
The heartbreaking "Situation in the coffin" of Botticelli is modern to the early "Lamentation" of Michelangelo – one of the most calm and harmonious creations of the sculptor.