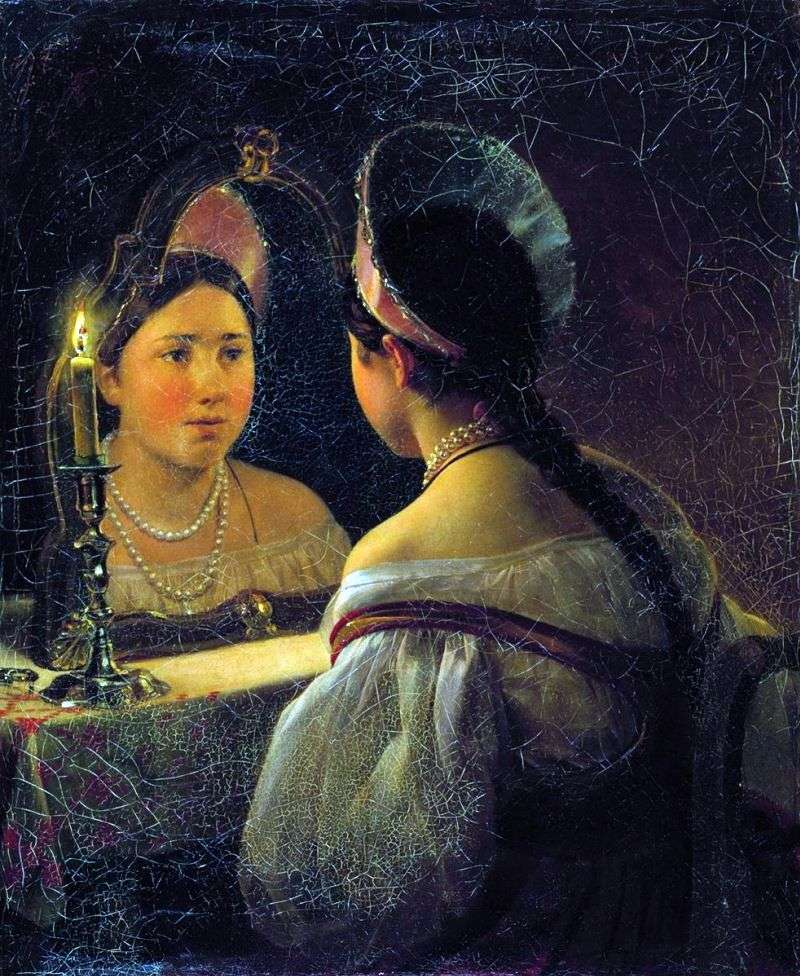 The tradition of holy fortune-telling is very old. She came from the paganism that reigned in ancient Russia before Prince Vladimir baptized her. And even after the baptism of superstition, they did not go anywhere, they simply merged with the new faith and became established as firmly as the new faith alone would never be established.
There is a fortune telling on Christmas Eve, which is considered very scary and at the same time very accurate. It is necessary to take two mirrors, large and small. Put a lot in front of you, put candles on each side, and, pronouncing the right words, put a small mirror in
front of you to create a fire corridor in the depths of the mirrors. It will be reflected, gradually approaching, and it is necessary to have time to see his face and lower the mirror before he comes close. Otherwise, it can strike your face and leave your birthmark, or even pull it off altogether.
This is exactly what Svetlana is going to try to guess. She wears a dress, a kokoshnik and pearls. She dressed up like a bride – not every day you meet your narrowed, let while only in reflection – and took off the cross that any Orthodox Christian should wear without taking off. After all, if it is not removed and put in a sock under the left heel, witchcraft will not work. The girl's face is tense. She looks at her reflection as if she is already trying to see the mated – not yet raising the mirror without saying a word.
She must be scared. After all, the sorcerer and the soul are ruining themselves, and exposing themselves to dangers, but curiosity is much stronger than fear. The mirror looks old and is probably pulled out of the grandmother's trunk. The candle in the old candlestick burns smoothly and brightly.
And who knows what could happen that night? Perhaps, the truth will come narrowed, and maybe there will be a horned devil and laugh, knocking on the mirror from that side. Together with the girl the spectator asks this question and involuntarily begins to be nervous.