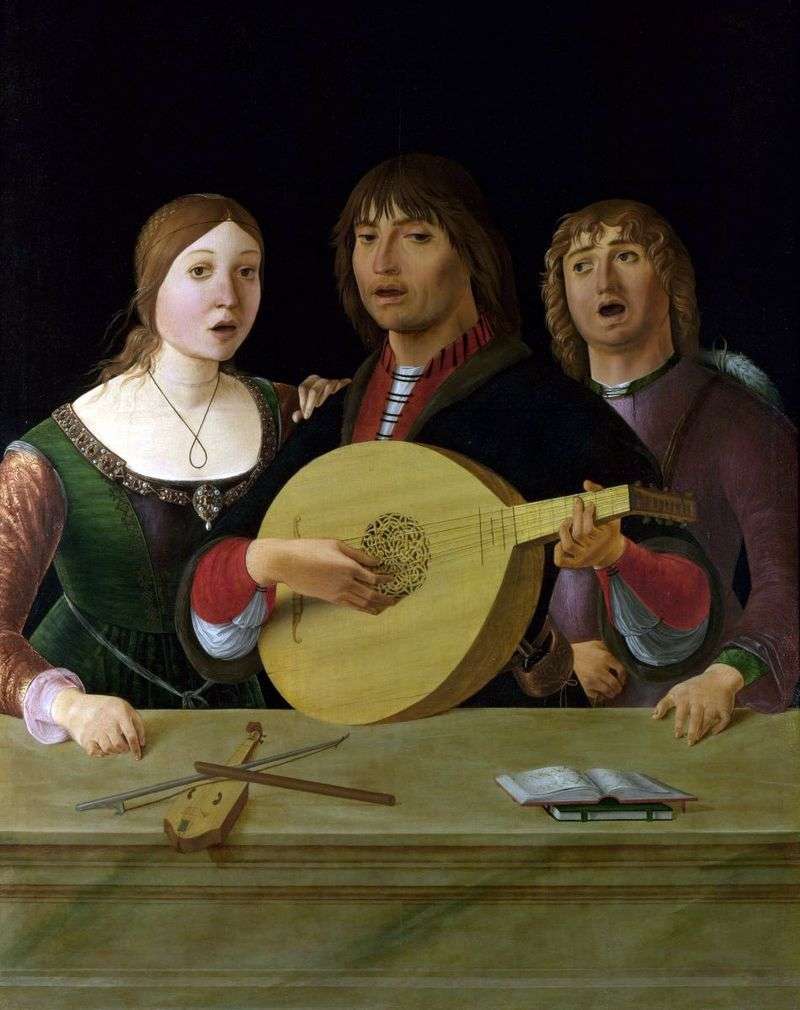 In the days of the Renaissance, it was not often the case that an artist painted a picture, trying to depict in it not any characters, but simply a favorite scene from real life. Kosta apparently belonged to the minority: "The Concert" was written for the pleasure of showing people singing in harmony and immersed in the music they perform. The center of the picture is occupied by a large lute, which is gently touched by the experienced fingers of the musician.
Lutnist seems indifferent to the environment and concerned only with coordinated singing with partners. The singers on the sides tap out the rhythm on the honey-colored marble fencing, behind which they feel completely in the world of music. They are confident, focused, do not pay attention to the notes in front of them. A richly dressed and jeweled woman put a hand on the shoulder of a musician in a friendly way – a gesture that excludes even the thought of a love affair.
Music has often become a symbol of courtship or flirting, but here we see a trio, selflessly immersed in the world of music. On the parapet lies another elegant musical instrument with a bow. Singers look detached, withdrawn in their magical world of music. They look each in their own way and seem to belong to different sectors of society. A rich woman, a well-dressed lute player and a commoner on the right – everyone is so absorbed in his occupation that it is difficult for them to even turn their heads.
The woman's hairstyle was slightly disheveled from the tension, and the men's hair was literally soaked from the efforts. The singer on the right grabbed the cord that crosses his body and holds his hat with a feather. However, it is clear that this is an involuntary gesture. Both singers beat off the rhythm, but from wide-open, single-pointed eyes we can guess that all their attention is focused only on the charm of music.