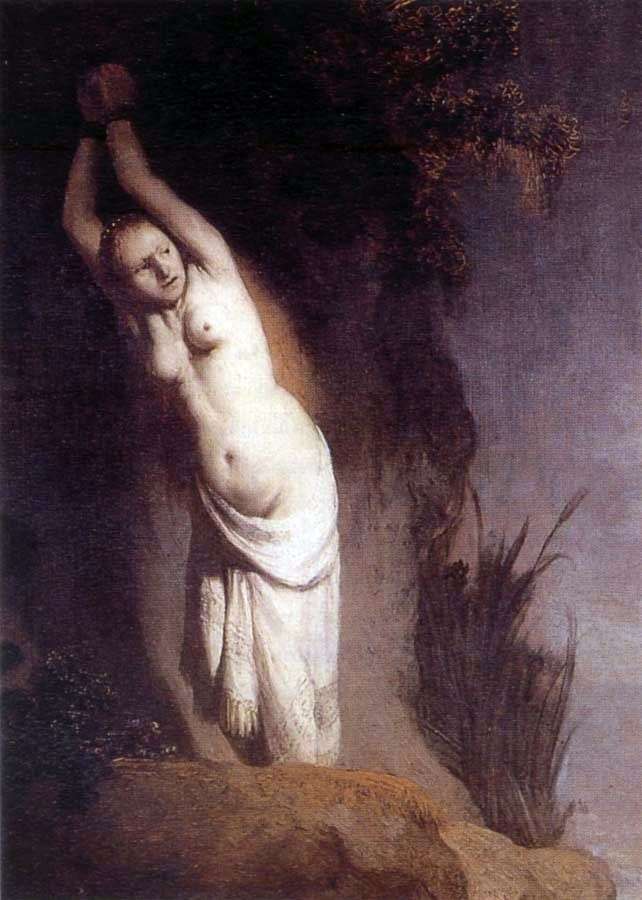 Painting of the Dutch artist Rembrandt van Rijn "Andromeda". Painting size 34 x 24 cm, oil on canvas. The dating of this small picture of mythological themes depicting the ancient Greek heroine is by no means beautiful, is not precisely defined. Most researchers of the Dutch artist are inclined to believe that Rembrandt painted the painting "Andromeda" at the turn of the 1630s or so.
Rembrandt began in his work, which is very important, not as a narrator of his modern life, but as a historical painter. The burgher pride of the United Provinces for conquests and achievements, freedom
and wealth, nation, homeland and hearth, has long required, after the rise of the past decades, its appropriate incarnation in art, which, in this case painting, followed this requirement.
Modernity-related, convincingly real themes in Holland were at their disposal specializing in various genres of painting. Its naturalism, mastering and beating up everyday life, was promoted by the hostile attitude of Calvinism to the paintings, which, unlike Catholicism, did not encourage church orders and religious dedication in art.
Rembrandt, a student of Lastman, whose work, based on historical plots, was formed from a peculiar synthesis of German-Dutch and Italian influences, Rembrandt from the very beginning turns to mythological and historical-religious plots, throughout his life the biblical story remains for him a central theme. In it, Rembrandt finds his parables, expressing them in a unique, turned to modernity and with a look that penetrates into the future, creativity.