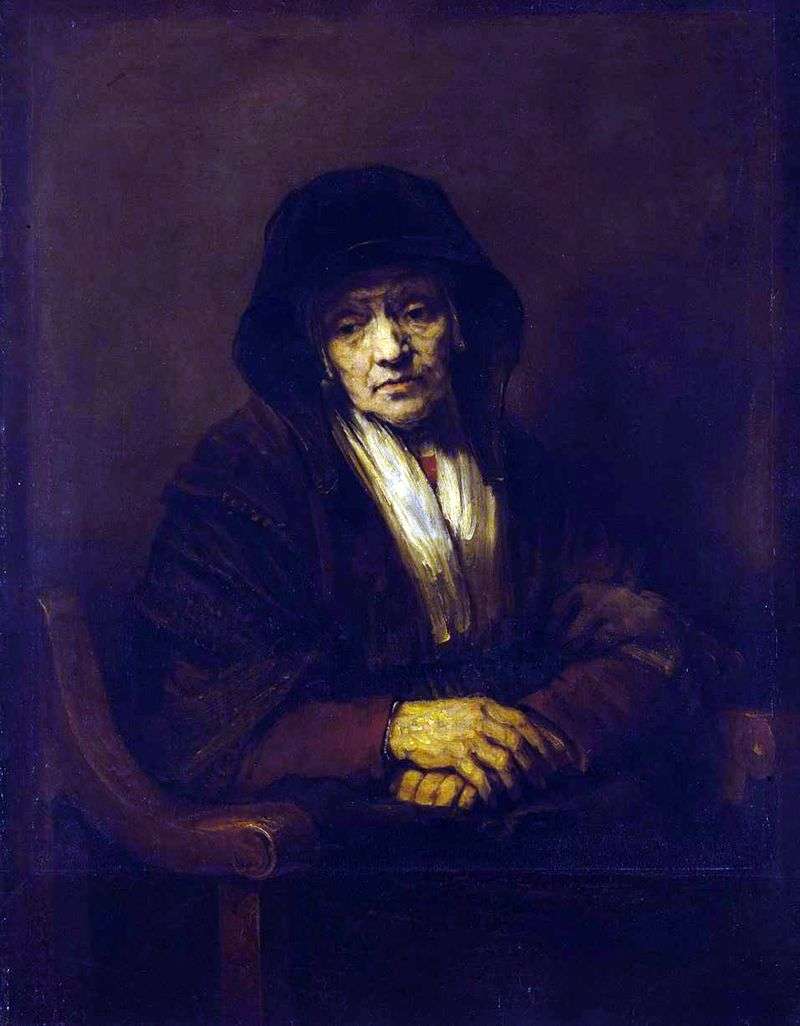 Painting by the Dutch painter Rembrandt van Rijn "Portrait of an Old Woman". Portrait size 109 x 84 cm, oil on canvas. Old age in a wide variety of options has always re-captured Rembrandt: as a characteristic reality, as a model for biblical characters, as a mysterious answer to the art-seeking arts and, finally, as a visible, constantly noticed presence of a lived life.
This interest in life and the search for truthfulness later became the main points of attack by classic art criticism; in 1671, Jan de Bishop, with a hint at Rembrandt, complained that "in Holland, Leda and Danae are portrayed
as a naked woman with a thick, swollen belly, with a saggy bosom and traces of garters on her legs"; Andris Pels composed in 1681 his reproach to the artist in verse and called Rembrandt "the first heretic of pictorial art."
But the extent to which such a vital combination of the ideal with the real gives the images of Rembrandt a new deep truthfulness that the simplicity of this portrait proves to be animated by the surprisingly picturesque riches. What went into this depiction of an old woman – her kindness, firmness, and, despite the years she lived through, a close look – all of this expresses her whole life and makes the bitter tears of her age beautiful.
As a formative, sensual elements of the confessional portraits of Rembrandt, light and shadows, their contradictory-moving and exciting transitions, are acquiring ever more expressive power. The light pouring out of darkness manifests itself already at the beginning of the artist's work as a bright triumphant, not only form-building, but also moral and symbolic force.
But it was only in the late 40s of the seventeenth century that the light in Rembrandt's paintings attains complete independence, symbolizing in this happening a disturbing invasion or transforming reality, the power of knowledge or the binding right of the highest, often divine power.
In the late period of the artist's work, the light turns into a magically timeless and yet concrete luminosity, into a flaming glow, inspiring everything depicted, finally merging into an incomprehensible heat with color: light becomes color, color becomes light. With deep confidence, with infinitely flaming passion, for Rembrandt, the tragedy of a dying, scattered, flickering, constantly faded shadow of light invades.