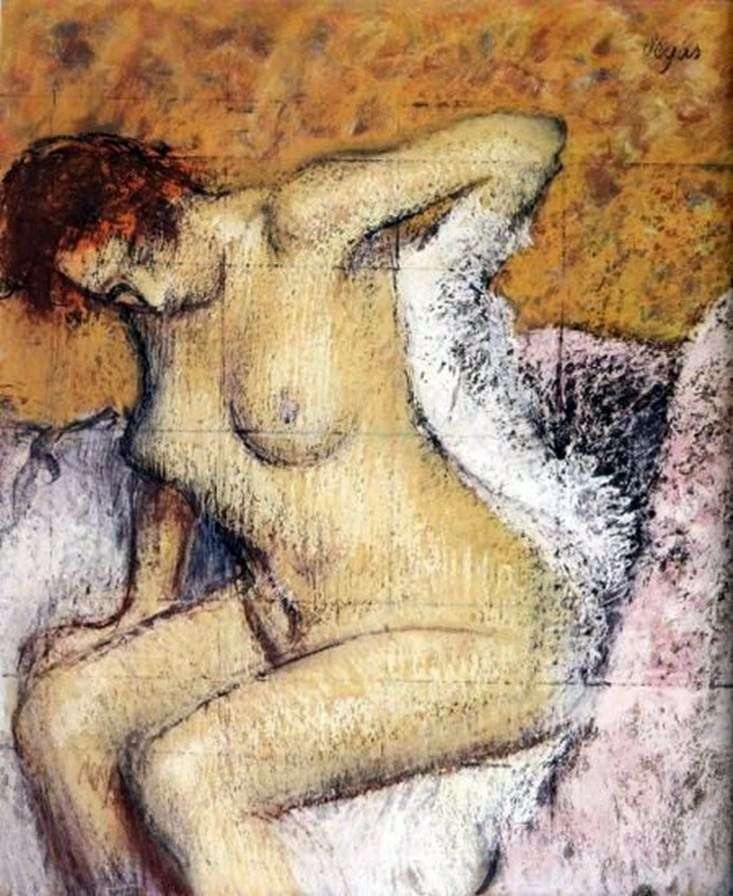 "After the bath" – a small canvas of Impressionist Edgar Degas. This pastel painting – the author's skate. The drawing is made on thick paper pasted onto the cardboard with the help of several pigments – pastels, tempera and gouache. Degas picture, however, like the whole series of cute bathers, is fragile enough due to the fragile properties of pastels.
Despite the fact that the author wrote a pastel, previously dissolving it in hot water, as oil, the paint eventually lost moisture and dried up. Hence this abrasion and not colored pieces. The technique of writing, combining
several paint materials, featured Degas paintings with a velvety texture and gentle povolokoy. This work is no exception. The woman is frankly pretty. Her body breathes not only cleanliness, but also youth, which can be designated by the formed maturity. The anatomy of the heroine is such that one can judge her health. She is not exhausted, fresh and glossy with moisture.
The breast of the lady is elastic, which speaks of her motherhood not having taken place. Although this nuance could easily be disguised by the author. The chestnut hair, short-cut, did not have time to dry up and shaggy hides hide the forehead. The desire to get wet back made me take an unnatural pose. The thin hand of the person is brought far behind, having sharpened a corner of an elbow.
The color solution of the work is not impulsive, but calm. The sand background is too pale to cause discomfort. The skin of a woman in vanilla tones looks natural, the same can be said about a draped sheet and a towel. A household scene from life, like a piece of a story from the everyday life of a simple woman. "After the bath", as a component in the mosaic of numerous girls washed, wet or bathed, reveals the talent of Edgar and his desire to convey the everyday life of the inhabitant such as they are seen and live by the viewer, every day, year after year.