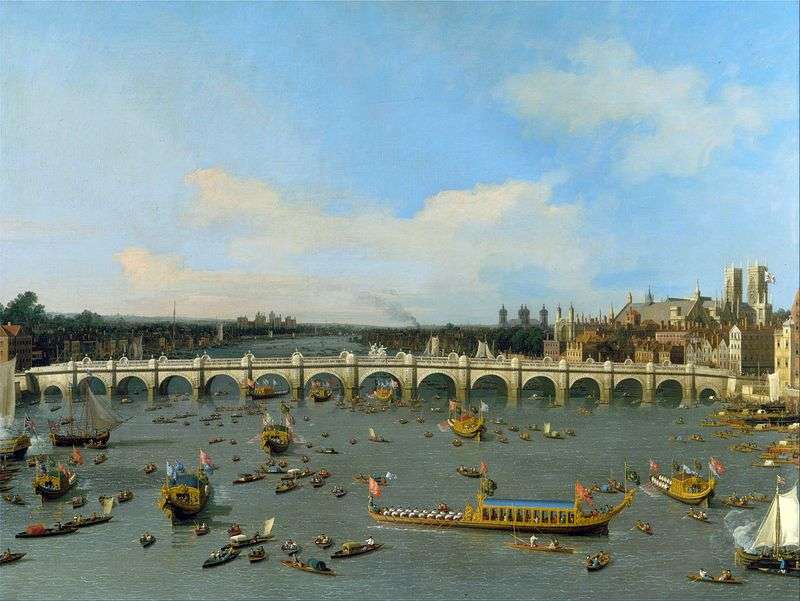 Preparing material for the "Catalog of Venetian Channels" published in 1734 by Canaletto, Canaletto – along with twelve types of the Grand Canal – wrote two large-scale paintings: "Regatta on the Grand Canal", 1733-34 and "Departure" of Bucentaurus "on Ascension Day", OK. 1732.
Both events were part of the annual calendar of the Venetian holidays and gathered thousands of spectators. The artist returned to this topic more than once – an example of this is the canvas "Return of" Bucentaur "on the Day of the Ascension, ca. 1734. Working on his "Regatta", Canaletto, by the way, borrowed the foreshortening and compositional principles of Luke Carlevaris, in 1709 wrote the painting "Regatta in honor of Frederick IV, King of Denmark".
The theme of holidays is a red thread through all the work of Canaletto. He wrote them not only in his native Venice, but also in England, where he spent ten years with a short break. London festivities are depicted on many of his paintings, such as the "Westminster Bridge in London with the Lord Mayor's motorcade on the Thames." In the 1760s, the artist created a series of ten drawings with a pen and ink called "Ducal Festivals." One of them shows street acrobats. The realities of everyday urban life continued to interest Canaletto and in old age.