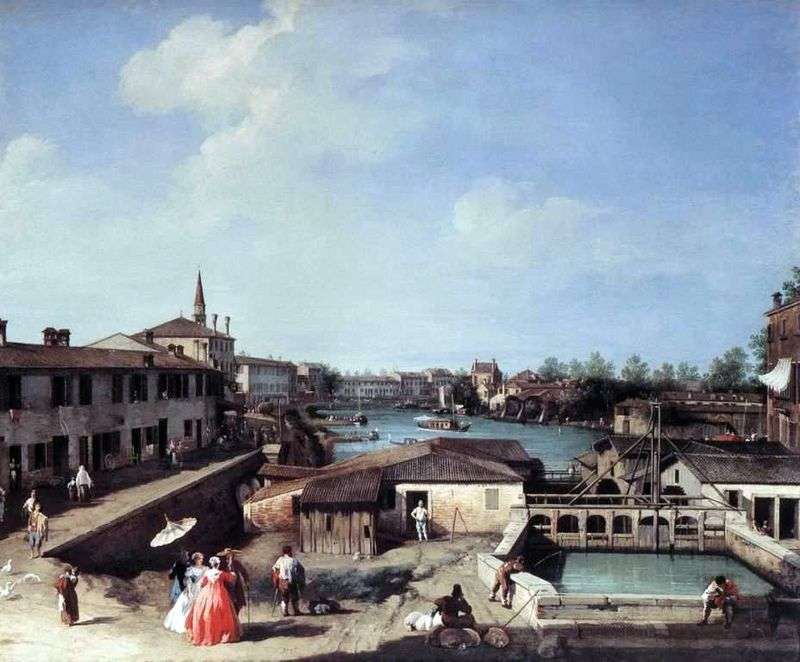 The Brent canal stretches deep into the coast, passing the town of Dalo. In the time of Capaletto, along the banks of the canal, the gardens were broken and the villas of the Venetian aristocrats, who loved to spend the summer months here, stood. Art critics still argue about the time of writing this picture.
The artist could visit these places practically at any time; boats along the canal were sent daily. The picture could have appeared in the 1740s, when Canaletto made a joint trip with his nephew, the painter Bellotto.
It is tempting to assume that Canaletto and Bellotto created their works simultaneously, but art historians have proved that similar Canaletto canvases are divided by a whole decade. The painting "Dolo on Brent's Channel" is very characteristic of Canaletto's work. There is a lot of open space here. This is a multi-figure composition. Among the characters of the work are peasants, idle aristocrats, fishermen, boatmen. As always with Canaletto, the attention of the viewer is attracted by the abundance of small household items.