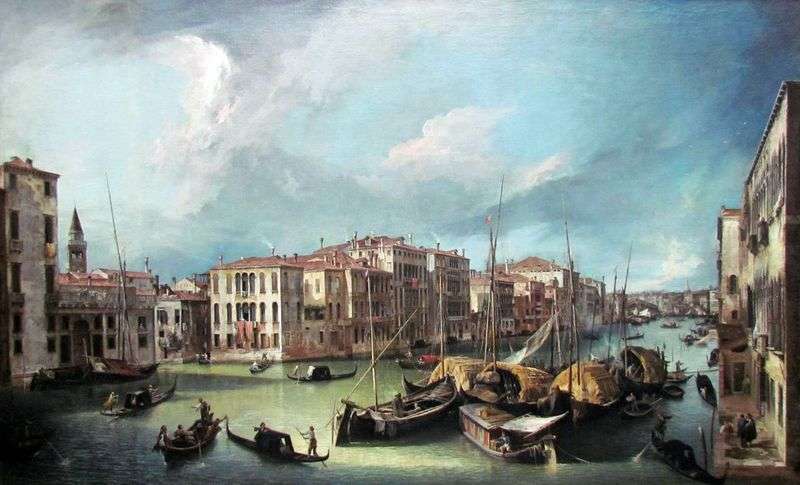 Curious fact: the behavior of the lagoon, important for forecasting the future of Venice, a city on the water, was studied by scientists with the involvement of… the picturesque evidence of Canaletto.
The picture presented is one of these. The artist wrote the Grand Canal several times, especially often in the 1720s. The perspective on all these canvases practically does not change: on the left is the Palazzo Papadopoli, the house of the Cuccin family, which in another perspective is represented in the picture by Veronese "The Madonna of the Cuccine Family", "scenery" is always different. But what is remarkable is that the point from which the view of the Grand Canal is opened is quite high.
It seems that the artist is writing on the bridge, but in this place he is not. The conclusion is that Canaletto wrote a lot from memory and thought out, in particular, the perspective view of his landscapes. This assumption will be even more convincing if we recall many of his paintings in the genre of capriccio, that is, written entirely "out of my head", in which all species that seem real are fictitious. In this picture, the Grand Canal looks everyday: life is boiling, a lot of people are busy on boats with their own affairs.
Completely different in mood picture of the same place will be written a decade later. "Regatta on the Grand Canal", which is kept in the Royal Assembly of Her Majesty Queen Elizabeth II, illustrates one of the main holidays of Venice. There are lots of boats, lots of participants and spectators, riot of colors and the same accuracy in the transfer of architectural details.