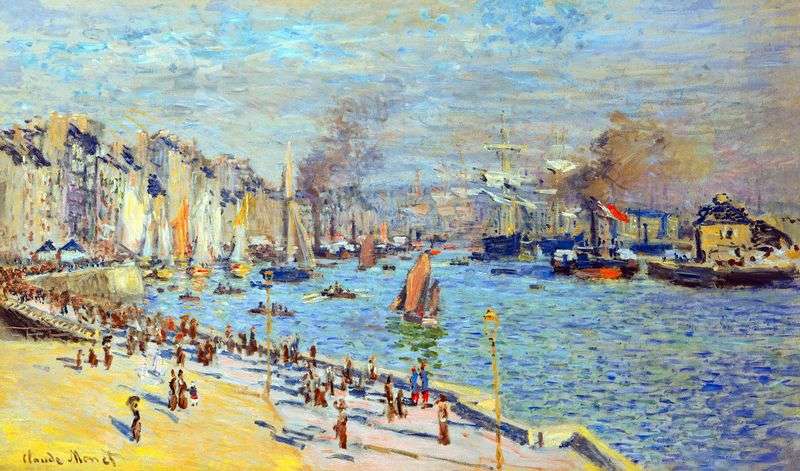 Le Havre is the birthplace of Claude Monet, where the artist spent his entire childhood, and from 1860 left this place and never returned there, perhaps, only to visit relatives and for sketches. So, in 1874, Monet returned to Le Havre and wrote a canvas with the exact geographic name "View of the old harbor in Le Havre".
The picture was very lively, one might say, alive, thanks to the plot. This is a view of the place where a lot of tourists and ordinary people take a seat. Here is noisy and life flows according to its laws. The view is divided into two worlds – a dejected and smoky horizon with residential buildings and such a sunny, clean, smooth beach, paved with stone, with asphalt, with sun glares on the yellow plane. The part where the gray houses tula to each other, as if sleeping. Here, where the sun and sand, everything is too cheerful and fun. An interesting opposition of the gray city to the river pier. The use of paints – gray, smoky, cold afar and ripe, light, sugar in the foreground, seems the same.
Even the character of the letter is different intensity and temperament. Notice how glossy the pier is, and how tangled the ligature of the brushstroke is for the residential part.
The perspective from which the author wrote is interesting. Monet painted the picture, looking down on the harbor. Therefore, people seem so small and ridiculous, and the plane of the earth occupies almost the entire space of the canvas. A piece of the river burst into the shore with a sharp wedge, it is cold and almost clean, it is not filled with unnecessary details, but it is balanced with the rest of the work due to ships scattered along the river.
Despite the sad distant plan and cold colors, the harbor exudes a warm and warm palette of a sunny day with long shadows from the traveling passers-by. Apparently, this is the afternoon time, when the sun begins to go out of zenith, enlarging the shadows, blurring the sharpness of the details, placing the day at dusk.