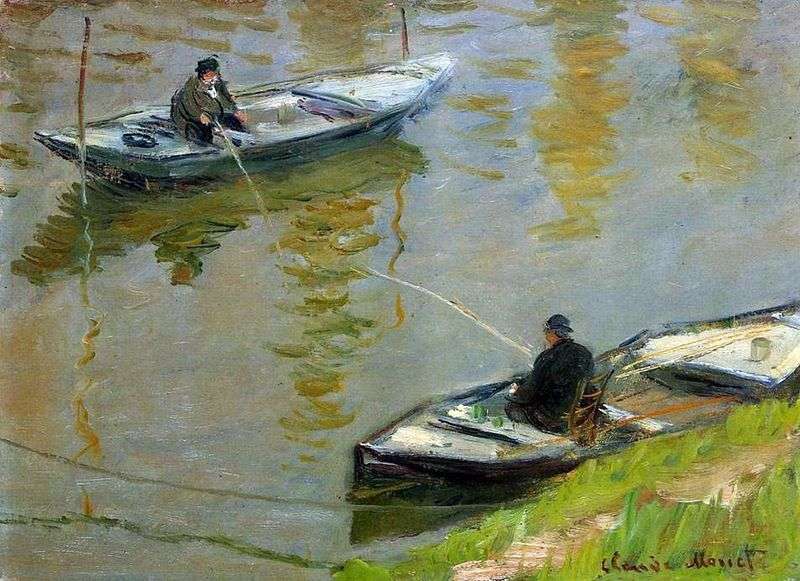 Quiet in its narrative canvas "Two anglers" refers to the end of the XIX century. It was written by the great Monet in the style of impressionism, however, like all his works. The hand of the artist is recognizable, easy, sweeping. As always, the paints are clean, but a detailed examination reveals the impressionistic nature of the mixture of colors.
The mixture of colors rages on the river surface, which is calm, quiet and dazzled at the bottom of the boat, breaking the calm. There is a mustard color, which gives a silky color to the gray pond, as well as the green of shadows and reflections. The inclusion of lilac shades with scant smears slightly cools the warm gamut of the river. Asleep tone breaks bright green grass, thick and rich. A corner of the path hidden in the grassy vegetation invites the viewer to a simple standing and contemplation from the island of land of the boring process of catching imaginary fish.
Claude Monet's letter is simple and clear. Contrary to the rejection of the classical methods of painting, its fishermen are still recognizable and eccentric. Managing to write with a thick brushstroke, the author conveyed a clear image of dull people, in some places glass containers in boats, thin strings of fishing rods and realistic scenes from life. His picture can be attributed to the genre of everyday life. Let it not the widespread subject of narration, but attractive by its immediacy. Such a piece of the day off is understandable to many who see the joy in catching mirror fish. Who does not know the splash of water and the joy of a caught delicacy? The proposed topics, it would seem, is focused on the male public in content.
However, belonging to Monet's brush, the French accent of creativity, the impressionism of the past epochs and a sample of the beginning of this trend in painting – everything suggests itself to the collection to any connoisseur and connoisseur of this genre. "Two anglers" are ridiculous in their own way. They sit opposite to each other, but silent and far, in fact. Who knows the intent of this fishing? Perhaps this is a competition or a great pill from the homely routine. Above the path stands the city with the bustle of everyday life, or it is still sleeping in the morning beams of a calm gamut of the picture. Claude Monet is a connoisseur of characters and real people. He endowed his fishermen with precisely that sadness and longing of expectation, which he probably saw in early childhood, wandering through the streets of Le Havre by the reservoirs.
Artistic oil conveyed the silence and authenticity of the process of an ordinary couple, which is familiar to the contemporary, despite the age of work. Apparently, this served to increase the interest of the viewer to the reproductions of "Rybakov" and the desire to invite them to his home collection.