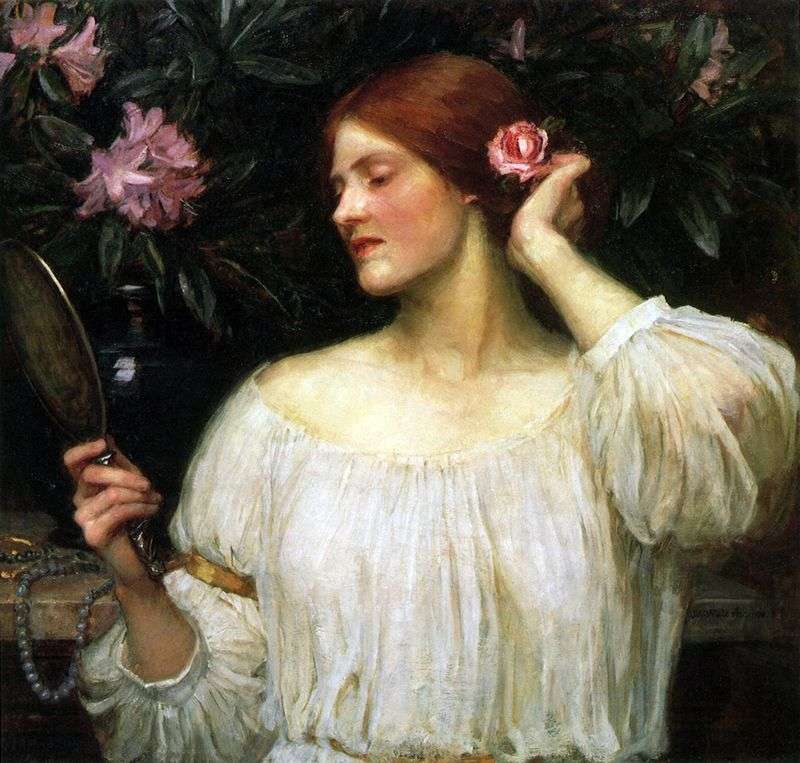 English artist John William Waterhouse is often mistakenly attributed to the flow of pre-Raphaelites. He shared the love of the Pre-Raphaelites for stories based on poetry and mythology, but there are still echoes of symbolism in his work. Waterhouse is a huge number of paintings on mythological, historical and mythological subjects and the feature of his paintings is his model.
In all the paintings, the artist wrote only one of his favorite model Muriel Foster, which can be seen by studying the artist's work. So in the picture "Vanity" this model is depicted in an allegorical manner. The girl, looking at herself in the mirror, with a proudly raised head, straightens the scarlet rose in her hair. She is dressed in a translucent white tunic, through which her naked body peeps through. It seems to be nothing special, but if you pay attention to the expression of the heroine's face, it becomes clear the name of the picture – "Vanity." The girl is obviously vain, she seeks to always look good in the eyes of others to confirm her superiority over them, and maybe hear flattery from them. This is of great importance for her, because without the attention of others she does not represent her life.
The heroine is in her apartment near the dressing table, on which lie her jewelry, pearl beads and a vase with beautiful flowers. Apparently she is going to go out into the light, and pretties herself to show her beauty. The heroine is really beautiful. Her face is ruddy and charming, and the skin is snow-white. The figure in color and light is highlighted on a gloomy dark background. This contrast gives the plot a touch of drama. Since the plot is an allegory of vanity, the artist seeks to show this vice in his painting. And it is masterful to him. Indeed, it is not without reason that the name of John William Waterhouse remained in the history of world art.