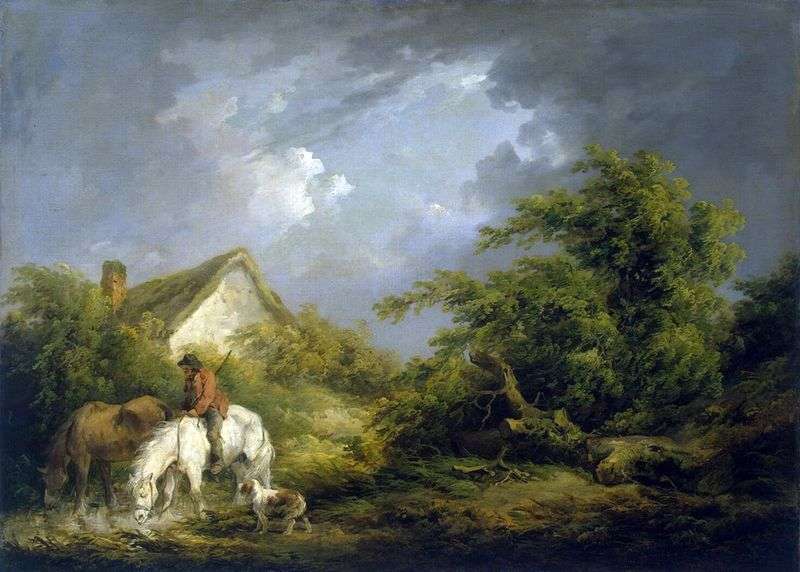 Rural England with picturesque hills and rivers, lush vegetation, with its working population and patriarchal life – a favorite theme of numerous paintings by George Moreland, an outstanding English landscape painter, genre painter and animal painter of the late XVIII century. This was the period when
Sentimental-romantic trends in English painting. A native of London, an artist from a young age preferred to work outside the city limits, lovingly portraying rural nature and settlers. On small canvases, less often on wooden planks, he painted dark forests and sunlit fields, silvery streams, with humpback
bridges thrown over them, huts and village taverns, peasants engaged in daily work or enjoying rest.
In one of his best works, Approaching a Thunderstorm, the artist uses various means of expression. Particularly successful composition of the picture. A calm foreground group is contrasted with agitated nature, engulfed in a jerky movement. This contrast Moreland emphasizes and pictorial methods: wide strokes of the brush mold the figures; fractional, small strokes dynamically transmit trembling foliage and clouds running across the sky. The Thunderstorm Approach is one of the more rare and large paintings by Moreland; the artist, who usually worked in a hurry, wrote his sketches on very small canvases and often did not have time to finish them.
The end of 1780 – the beginning of the 1790s, when the Hermitage painting was painted – the period of creating the best works of the artist, who worked only twenty years and died in the prime of his creative power. The painting "The Approach of a Thunderstorm" entered the Hermitage in 1919 from the Fersen collection.