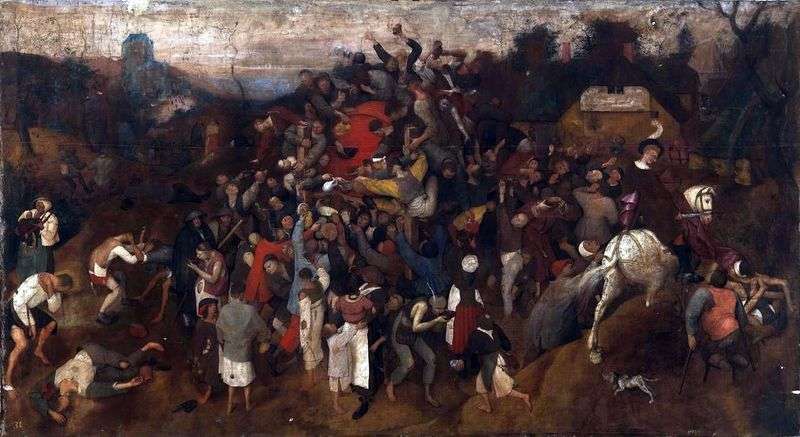 "Wine at the Feast of St. Martin" – the largest of the currently known paintings of Peter Brueghel the Elder. The painting was written in 1565, at the moment is in the collection of the Prado Museum, where in 2010 they confirmed the ownership of the painting by Brueghel.
The painting depicts a scene from peasant life – the celebration of St. Martin's Day, celebrated on November 11, which traditionally people try the first wine of the harvest this season.
"Wine at the Feast of St. Martin" – one of the few surviving works made on flax. By the time of restoration in the early 2000s, the state of the painting left much to be desired, including, this is due to the fragility of machinery and material, which is problematic for long-term storage.
In 2010, the specialists of the Prado Museum confirmed the authenticity and authorship of the picture, the X-ray examination revealed fragments of Brueghel's signature; earlier the museum acquired a painting for a smaller amount than it could have been with proven authorship.
The plot of the picture corresponds to a documented description of the work that was kept in the mansion of the Gonzaga family at the beginning of the XVII century, nevertheless, it can certainly not be confirmed; so, in the Museum of Art History in Vienna there is a similar picture depicting the celebration of St. Martin's Day. There is documentary evidence that the painting was in the collection of the IX Duke of Medinaseli by Louis Francisco de la Serda and Aragon.