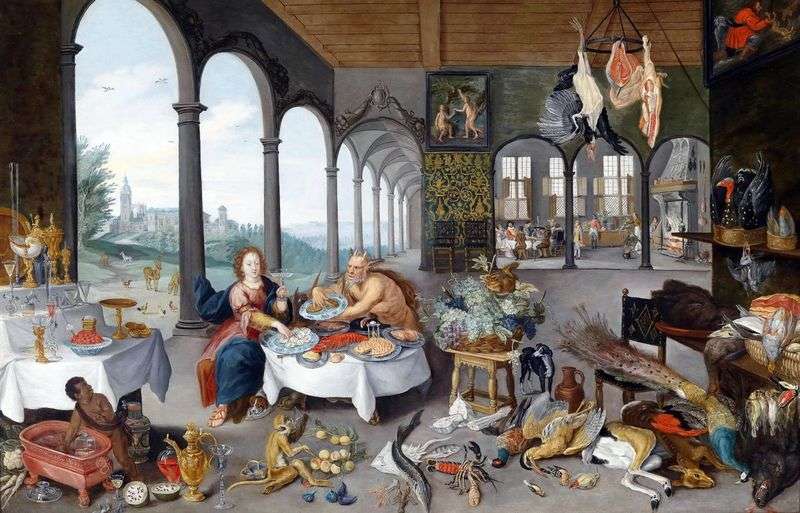 "Allegory of Taste" is a luxurious feast for the eyes. Everything that can be thought of in the field of gastronomy: any beverages and dishes, game and fish, crayfish, lobsters and oysters, all kinds of fruit – everything on this exquisite canvas is imprinted with stunning, scrupulous precision, masterfully painted the smallest details. Just look at this grapes! Large ripe berries literally glow, sweetened with sweet juice. Here everything speaks of luxury and prosperity, but is it only about this?
As is customary for Brueghel, any character, every detail is full of a certain meaning that, to us, "the inhabitants of the twenty-first century", if we paraphrase A. Voznesensky, it is difficult to catch without certain knowledge about the mores and perceptions of those who lived in Europe in the Middle Ages.
At the time of Jan Brueghel the Younger, the monkey was an attribute of taste in such fashionable allegories of the five senses. Sitting on the floor and drinking wine from the glass, she, on the one hand, hints at the prosperity of the house where the action of the picture takes place, and on the other – is the symbol of the devilish beginning, lust, voluptuousness. Peaches in Christian symbolism, like an apple, mean a fall, and fig fruits are lust and fertility.
Opened oyster shells – and in fact it is the oysters and the heroine of this picture is eating! – are a delicacy that stimulates sexuality; in medieval symbolism they carried a powerful erotic overtones and simultaneously denoted a soul ready to leave the earth's shell. Meanwhile, the above-mentioned grapes, the symbol of the Holy Communion and the immaculate blood of the Christ, shed on the cross, stands untouched. The gastronomic preferences of the feasting are very eloquent evidence of the sinfulness of what is happening.
In the lower right corner of the picture among other game lies a dead peacock, symbolizing a trampled immortality. Did the beautiful lady, in pursuit of instant pleasure, betray the sin of gluttony in the company of the seducing satire, had not sold her immortal soul to the devil?