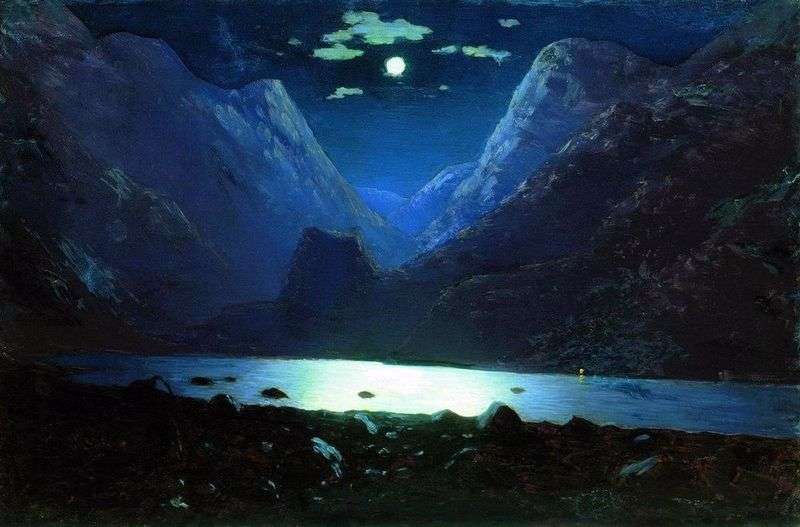 One of the most beautiful works of Arkhip Ivanovich Kuindzhi is the mountain landscape "The Daryal Gorge." Moonlight Night. The time for the creation of the canvas dates back to the period 1890-1895. This landscape is kept in the collection of the Tretyakov Gallery.
The image itself is quite symbolic and mysterious. The Daryal Gorge is an interesting place, beautiful, has a long history, besides, the very fact that the border of Georgia and Russia passes through the Daryal canyon is significant. The Daryal Gorge divides the two states, serves as a kind of watershed, delineating the territories of the two countries, two rich states with beautiful nature.
The landscape is made in various shades of dark blue color. In general, the color solution of the canvas is sculpted before us by a mysterious landscape, filled with translucent shimmering and streaming moonlight.
Moonlight night in the landscape of Kuinji is poetic and complex, like the poetic lines of the poet of the Silver Age, Andrei Bely. "The inexplicable and bottomless" moonlit night on Kuinji's canvas. The beauty of the night gorge is majestic, but at the same time frightening. Moonlight in particular builds the color of the landscape, creating a gradation of shades of blue from light purple, blue flowers to saturated almost black tones. The bright, radiant face of the moon is framed by small clouds, which have a light tint, close to the shade of the sea wave.
The landscape is worked out in a cold scale, which gives rise to a feeling of unreality, of a different, beyond world, of utterly impossible mysteries and legends.
Milky soft moonlight glides along the mountain peaks and descents, enveloping the space. The night sky looks like a deep, blue, velvet canvas, expensive and unthinkably beautiful.
In the landscape there is no excessive gloom, excessively darkened spaces. On the contrary, due to the lunar reflection effect, a three-dimensional image is created, the light doubles, it becomes somewhat larger. The quality of lighting is more complicated, inexplicable. The landscape is like a philosophical, semi-transparent etude, somewhat gloomy and severe, but both lyrical and sensual.
In addition, the landscape is beautifully drawn, it has many impressionistic features. The landscape is momentary, brief, fresh, cool, permeated through with the wind, mist and brittle, moonlight.
"The Daryal canyon, Moonlight Night" is a very beautiful, romantic landscape. He draws before us a night landscape, for which poetics, demonic, Lermontov beginnings, elements of the great Hamlet-Pechorin melancholy are more characteristic. The landscape is filled with symbols and signs that you need to be able to see, understand and correctly explain, try to unravel the pictorial row of one or another picture plane, giving it volume and an artistic idea.