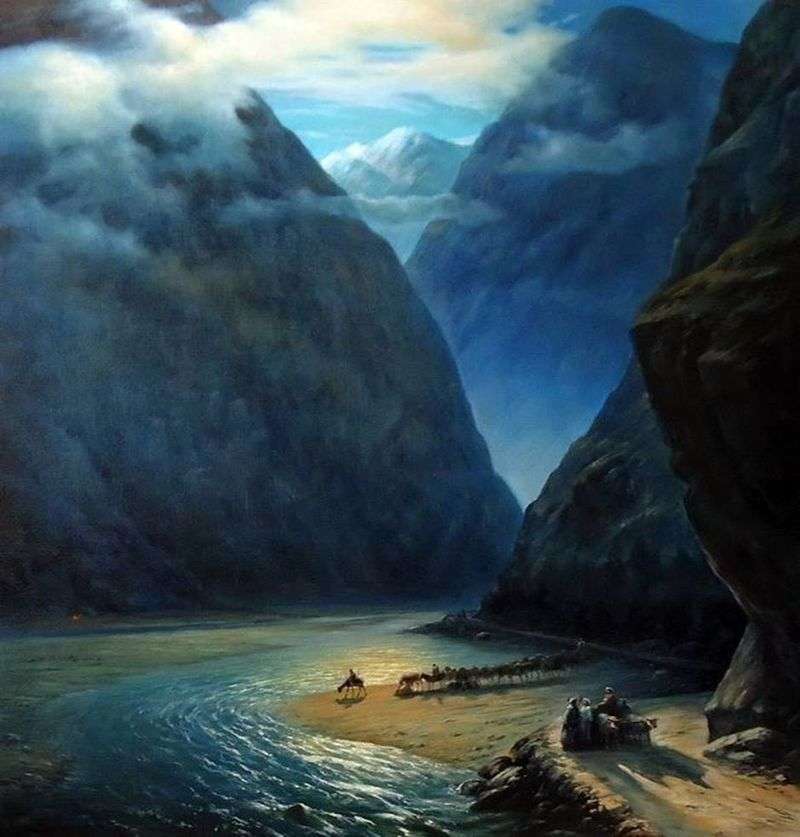 Born in the picturesque Crimean city of Feodosiya on the shores of the Black Sea, Ivan Aivazovsky got used to the expanse of waves and to the sound of the surf. In the Academy of Arts did not differ in skill in the portrait drawing, but was enlisted in the landscape class and landscapes.
The sea occupied all his imagination, and he managed to portray the elements amazingly and quickly. In those days, photography was a rarity and expensive pleasure, so the painters plausibly portrayed the natural properties of nature.
Artists were in demand in any department, especially in the military. The paintings painted by Aivazovsky were equal in status to important documents. The artist had a phenomenal photographic memory, and many pictures were based on imagination and memory.
One of the variants of the Daryal Gorge in this context was written in 1868 and made with oil. The canvas depicts the gorge of the Caucasus ridge at the intersection of Georgia and Russia on the Terek River, where the main character of the plot is a bright moon.
Kazbek's peaks rise above the river bed for 3 kilometers, and at the bottom is an important junction, where the military road runs and bears the ancient geographical name "The Gate of the Caucasus".
In the majestic scenery a miracle of mountains with steep cliffs and loneliness of the moon, illuminating the terrible darkness of the night, is imprinted. An important border between the states managed to see during his military campaign against the shores of the Caucasus. The mountain landscape is filled with sadness and detachment, it looks monumental and unique.
For his life, Ivan Aivazovsky wrote 6000 landscapes, and money from the proceeds of paintings spent on charitable purposes. At present, the canvas "Daryal Gorge" is kept in Yerevan, in the National Gallery.