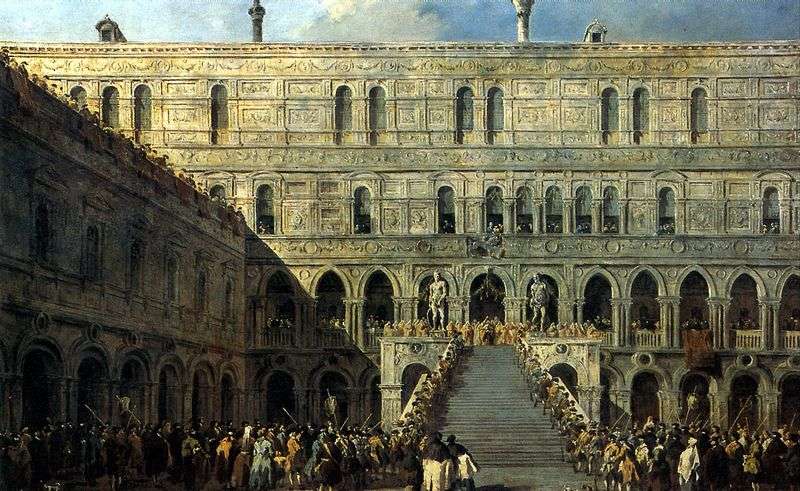 The name Francesco Guardi is associated with Venice – the city in which he was born and died, studied painting and painted landscapes. Today, with the work of the Guards, the passage in the Venetian school from the leading – documentary-exact landscape – is connected to the urban landscape, based on personal impressions, the "landscape of mood". However, during his lifetime Guardi was not famous, his works did not enjoy special success.
Only in the XIX-XX centuries. the artist's work was appreciated. The images of Venice in the performance of the Guard are romantic-sad, elegiac-sad. The city under its brush – an amazing construction saturated with the excitement and wisdom of centuries, possessing the attractive force of antiquity. In the 1760s, after the death of his brother Giovanni Antonio, Francesco Guardi began to manage his painting studio. In those years he received an order for a series of twelve paintings on the occasion of the inauguration of the new doge of Venice, Alvizo IV Mocenigo.
At the execution of Guardi's order, it was the duty to use Canaletto's drawings engraved by JB Bruston. The series created by the artist combined the dazzling and pomposity of the images with the detailed refinement inherent in the Guards in interpreting the light and air environment. Other famous works: "Gray Lagoon". Gallery Poldi Pezzoli, Milan; "The fire in the San Marquola area." Gallery of the Academy, Venice; "Landscape, Sunset." Gallery Ambrosiana, Milan.