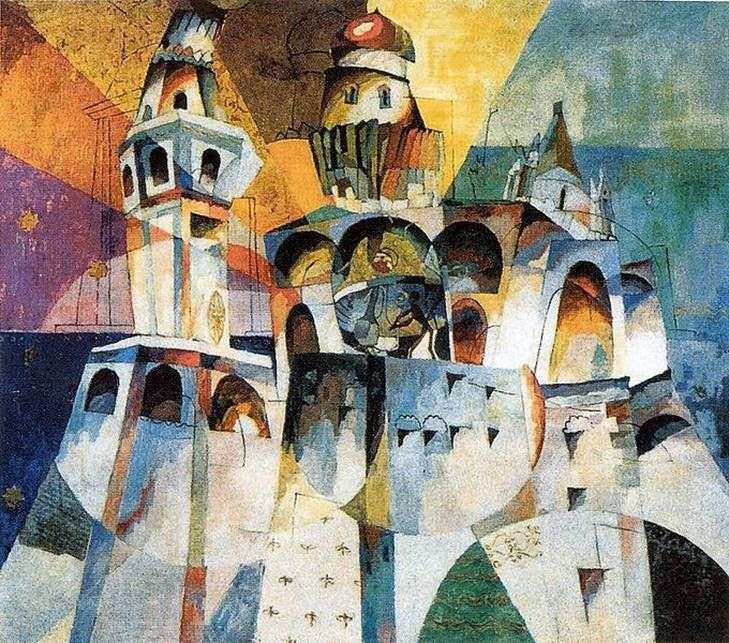 The artist himself particularly emphasized this pictorial panel as "solving the problem of the great Russian decorative art." This expression first served as the expanded name of the canvas, on the first vernissage, where it was shown.
The picture is a real polyphony of planes and semicircles that are spread across the field of the canvas and are associated with sound waves emanating from the Ivan the Great Bell Tower. In the imagination, this canvas causes polyphonic Easter crimson chimes. The cubofuturistic style of writing does not prevent the recognition of the white-stone chambers and towers with characteristic arches, openings and domes traditional for Russia. The unstable cone of the bell tower bends its head towards the main dome, and it seems as if they are embraced by a single rhythm emanating from the ringer in the center of the picture trying to rock the bell. The cascade of color-sound waves is combined with light sectors of triangles and semicircles, creating a complete image of the microcosm.
In "The Ring" Lentulov turned out to be the exponent of the search for his era. Wishing to find an image for a monumental embodiment, he turned to traditional images of Russian art. In this picture many features of architectural murals characteristic of Russian icons and frescoes of the XVII century are reflected. For example, the lack of a direct perspective, ornamental pattern, weightlessness of cumbersome forms, flatness, multiplicity of points of view.
At the same time, Lentulov expressed exciting problems in such a modern language, which makes it possible to convey the perception of antiquity by a modern person and at the same time exists in an atmosphere of rapid changes and rhythms replacing each other.