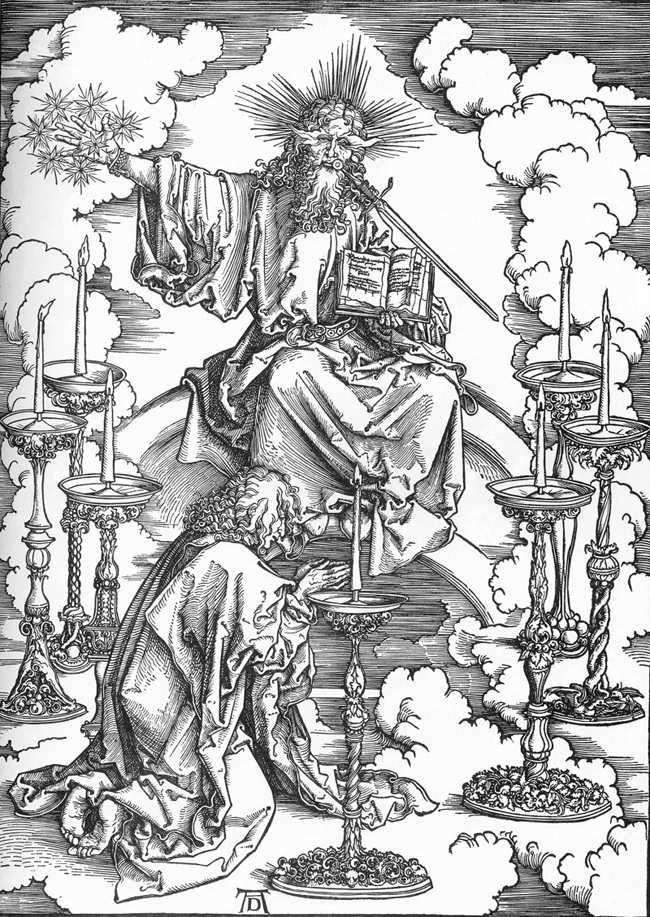 Engraving "Appearance of John the Christ and the essence of the seven churches" – an illustration to the first chapter of the book "Revelation" of John the Divine:
"I turned to see whose voice was speaking to me, and turning, I saw seven golden lamps, and in the midst of seven candlesticks, like the Son of Man, clothed in a tadpole and girded with gold belt.
He held in his right hand the seven stars, and out of his mouth came a sharp sword on both sides; And his face is as the sun shineth in his strength. "
Albrecht Durer created his masterpieces of "Apocalypse" in the era of cultural recovery of the Northern Renaissance. At this time in his native city of Nuremberg, citizens discussed issues of science and art, Durer's best friend just then translated Apocalisse from Latin into German.
In the society there was a discontent with the Inquisition, with indulgences, which made the Catholic Church immensely rich. Moreover, these were the times of endless outbreaks and epidemics of plague, internecine wars, and wartime wars. Therefore, the sensation of approaching the end of the world – and he is Apocalisse – was clear to everyone.
In the engraving used the symbols that were followed in the altar painting and book miniature, woodcuts, wall paintings – and it was understandable to the contemporaries of the great German artist, and we turn to the comments found in the article by Pavel Kotov. He's writing:
"The Apostle sees the Creator holding the sealed Book of Destinies in his hand, and in the other hand the Pantocrator has seven stars that symbolize the patron angels of the seven largest of the first Christian communities – in Ephesus, Smyrna, Pergamum, Thyatira, Sardis, Philadelphia and Laodicea The communities themselves symbolize the seven lamps: from the mouth of the Creator comes the sword – the symbol of the divine word. "