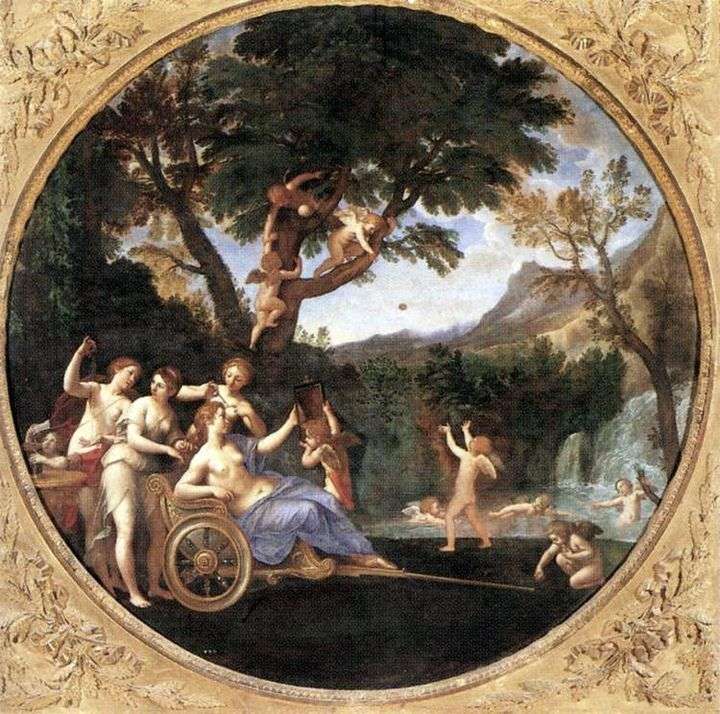 Pupil of the Bologna Academy, in which much attention was paid to the revival of the ancient heritage, Albani often turned to mythological subjects. They interpreted them in a game key. In this case, the artist took the plot, which was popular with European painters, it is enough to recall Titian, Rubens and Velasquez. It is about Venus in front of the mirror, which holds the Cupid. Albani portrayed the goddess of love preening with the help of nymphs, one of whom wears her ornament.
The author placed the scene in the bosom of nature with shady trees, bright glades, a transparent source and blue mountainous dalys. Around the sport cupids, one of them rips apples from the tree and throws the rest, which recalls the mythological court of Paris, who gave the apple to Venus, the most beautiful of the goddesses. Tondo, that is, a round-shaped picture, Albani bears the features of decorative painting.
This is facilitated by an easy story, which made it possible to depict an unpretentious pleasant scene, and a uniform color scheme with the finest shades of colors, which makes the work look like a tapestry. The canvas is an example of early classicism, when the forms are not yet frozen, and the images were notable for their liveliness and aroused sincere sympathy.