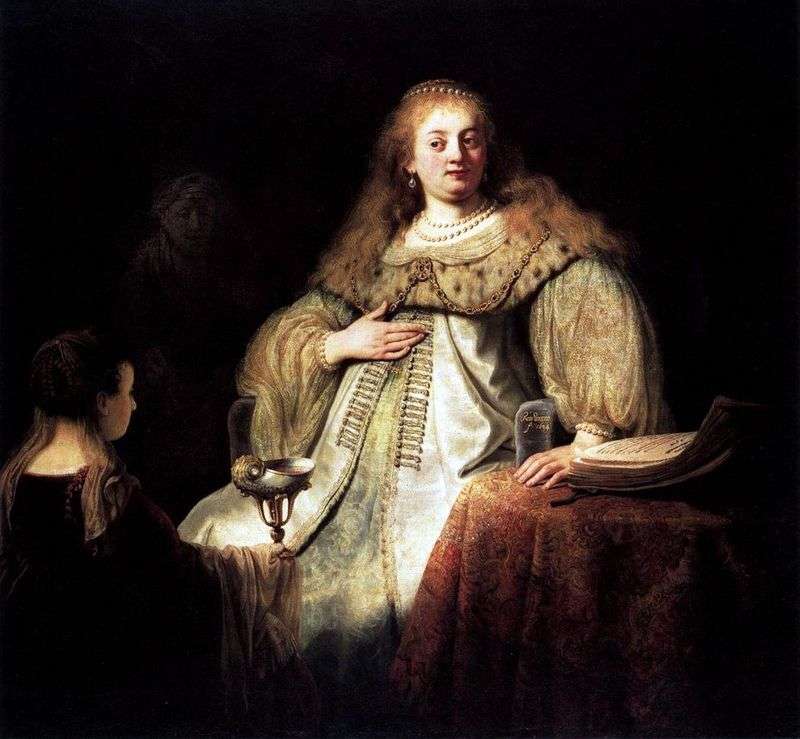 The painting "Sofonisba Accepts a Bowl of Poison" is an early work by Rembrandt. In the guise of the heroine guessed Portrait of the wife of the artist Saskia. Sofonisba in a luxurious attire, not concealing the future of motherhood, in jewelery with pearls, sits by the table covered with a carpet on which the manuscript lies.
A kneeling maid serving her a drink in a bowl made from a nautilus shell. Sofonisba's gesture can be interpreted as accepting and at the same time protecting the life originated in it. The old woman, standing in the depths in the shadows, with an expression of sorrowful
sympathy is watching this scene: Sofonisba, not wanting to adorn Scipio's victory, preferred to drink poison.
The main narrator in the picture of Rembrandt becomes light. The most luminous figure – the heroine, the nautilus cup standing in front of her, as a fatal reflection, has a strange, golden-nacreous radiance, fascinating and deadly.