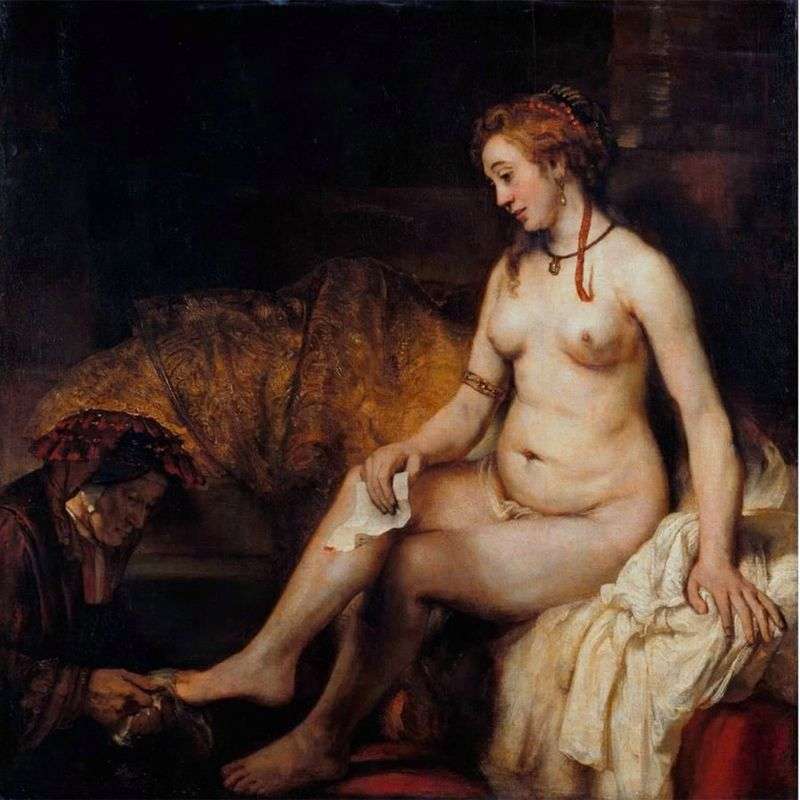 This work on the biblical theme illustrates the scene from the second book of Kings and is considered one of the best works of Dutch realism in 17th-century portrait painting. The Old Testament story tells that while walking on the roofs of the palace, King David was seduced and fascinated by the beautiful bathing Bathsheba. Since her husband at that time served in the army of the king, the latter called the woman to the court and quenched her passion with her, and then ordered to substitute the husband of Bathsheba under attack at the height of the battle.
Rembrandt captures in his picture the moment the
heroine receives a letter in which the king calls her. This is one of the most subtle and expressive examples of religious art, in which all the mixed feelings of a woman are visible, from regret and awe, to the expectation of a promising connection.
Previously, it was considered canonical to show Bathsheba's bathing in the open air, where in the background, at a distance, there was a tower with the silhouette of David watching the heroine. Rembrandt also used a similar construction in the work of 1643, but in this work he proposes a minimalist composition in which the spectator rather than the king becomes the observer for the woman.
Bathsheba sits on a bed in her room, her head slightly turned, and she herself is lost in thought while the servant wipes her feet. From X-ray analysis, it is known that the position of the heroine is carefully planned. Originally, Rembrandt portrayed her, looking up in a less defiant pose. The maid, who looks away, also knows the contents of the letter, which the hostess holds in her hand. The scene in the bedroom hints at the consequences that will end the upcoming meeting.
The detail and detail of the picture are exceptional even for Rembrandt. Each fold and wrinkle lovingly worked out, and the sensual nature of the work is emphasized by transparent drapery and delicate decorations. Broad strokes create a tactile resonance with the body, which makes it almost tangible. The picture is made in warm golden tones and has echoes of the color work of famous Venetian masters, such as Paolo Veronese and Titian.
Deep sadness is visible in the face of Bathsheba, but this is not the only feeling that a woman expresses. In the end, besides her husband's betrayal, there are exciting prospects that open up when you have a close relationship with David. Rembrandt rarely created trivial compositions, which is why Bathsheba in this work is presented as a sinner and a victim.