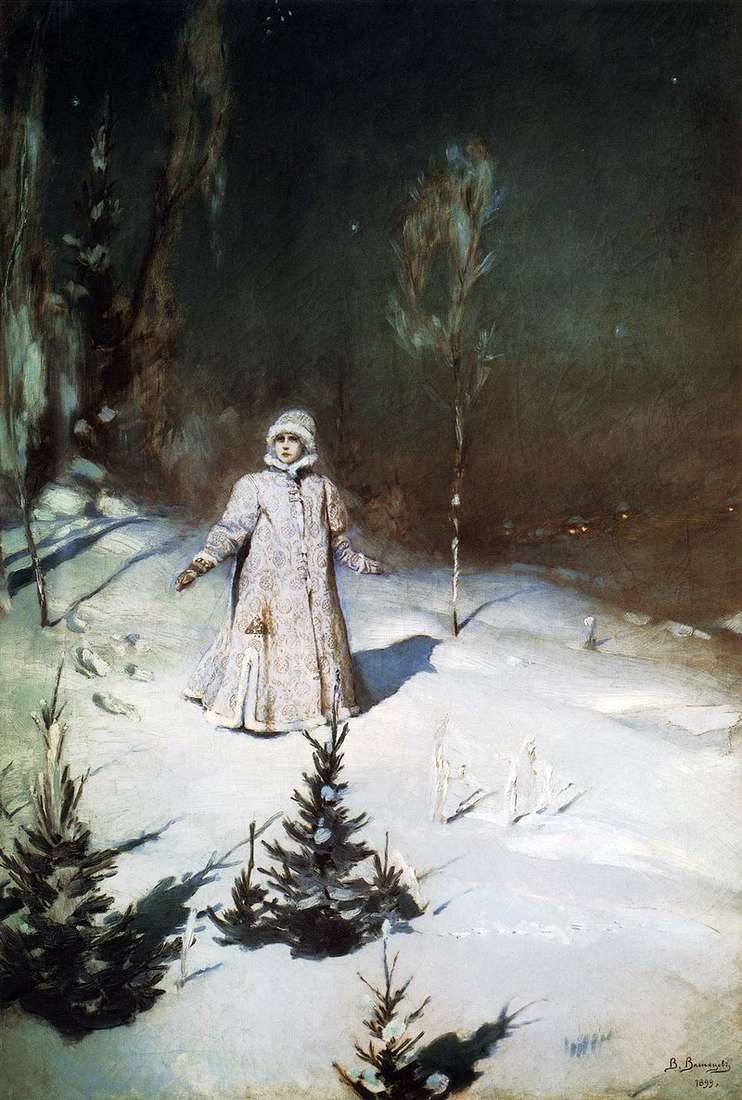 Snow Maiden is a favorite fairy-tale character of Christmas holidays. Vasnetsov creates his picture clearly under the influence of Ostrovsky's fairy tale and Rimsky-Korsakov's opera.
Fabulously beautiful night: snow-covered forest, flooded with moonlight, starry sky. The Snow Maiden has just come out of the forest, she is ready to make the first step towards people. In the distance, the lights of the village can be seen. At this moment she, frightened, pale, but determined, last time looks back at her house – the forest. It seems that her eyes are full of tears, and the next moment you realize that the Snow Maiden can not cry.
In front of the heroine, hardly noticeable trap or trap. Trees are surrounded by radiance, in which you can see the eyes and wide-open mouths. The native forest warns the Snow Maiden of danger. On the left, behind the fairytale heroine, the human silhouette is easily read. Is her mother seeing her off, Father or Father?
Anxiety fills the picture, a premonition of trouble. No, the Snow Maiden will pass the trap for the beast. But soon it will fall into a completely different trap. Jarilo-Sun will kill the daughter of Frost and Spring, because she knew love without being a man.
The lights of the village look unkindly, like a monster from the darkness. It is not easy for the Snow Maiden to make a choice. But the next moment she will boldly step forward to meet a new, strange, unknown.
Her outfit absorbed all the shades of snow, forest, sky. Dazzling white snow, blue-green night, young fir-trees in the foreground – everything in the picture is registered with extraordinary accuracy, authenticity. A fairy tale does not tolerate lies.