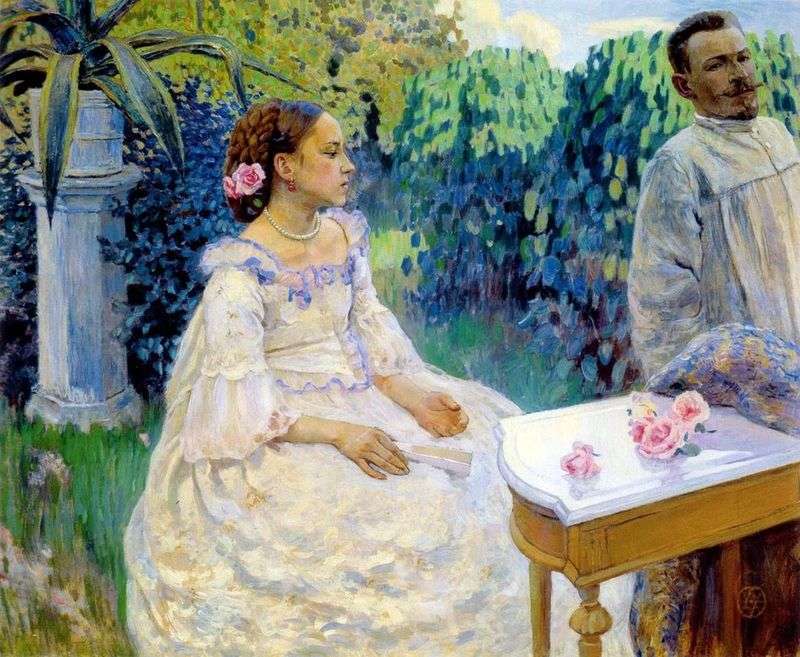 The artist lovingly and lovingly loved his sister Lena. Self-portrait with her, he decided to write in a secluded corner of the garden. Victor set up a small samovar table of simple work, but with a marble board. To the left he planted a flower of agave. Lena was planted between her and the table. On the table, he planted roses… Everything in the picture is thought out, in everything the desire for beauty.
Color is aged in very beautiful light and cold combinations. The mass of greenery that has risen in a dense wall in the sunlight is boldly generalized. Large soft, separate smears convey a sense of play of light on lilac bushes, smaller light green mazes – the illuminated foliage of the tree in the depths, open blue and blue, a shaded bush behind Lena's back is written. But most importantly – her airy white dress next to the white marble, reflecting the blue of the sky. The rose is on marble. Rose in the braids of a girl.
The artist in a loose blouse, whose black color had to be painted with white. A proud independence of appearance, romantic-penetrating, with a squint, a look. And yet the image of the "creator" turned out to be ambivalent: courage, challenge combined with involuntary shyness. Hence the seemingly accidental appearance of his figure hanging over the table and "cut off" by the edge of the canvas.