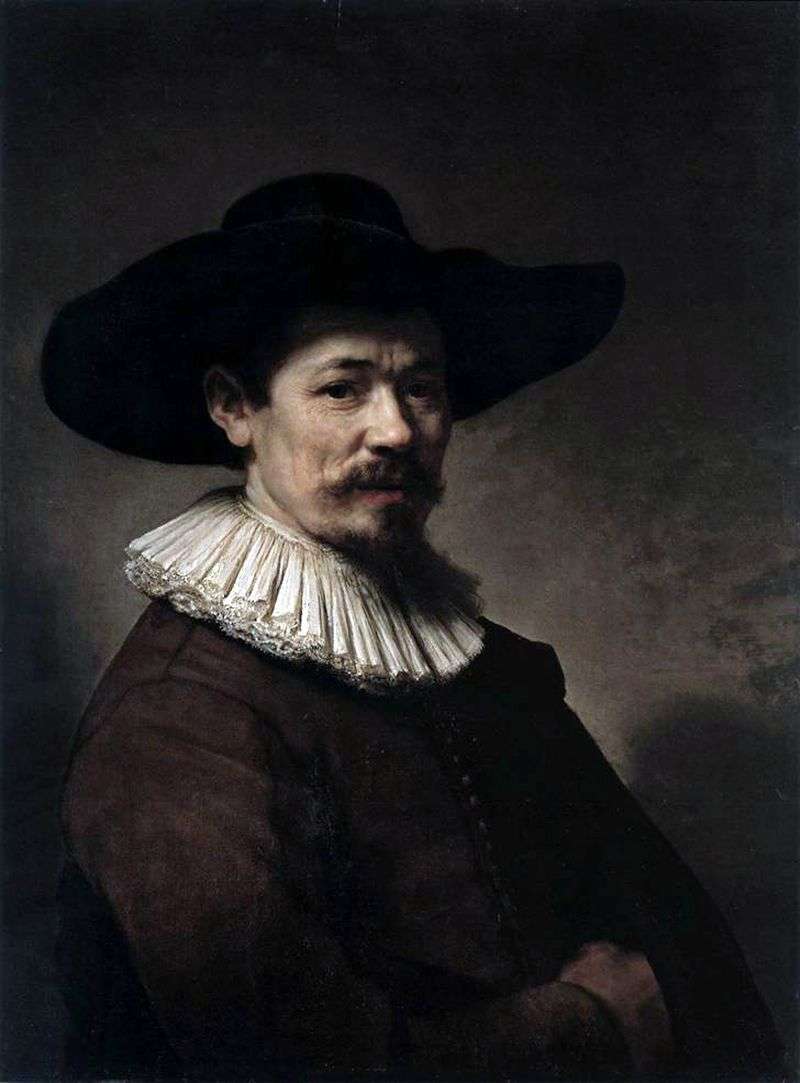 Self-portrait by Rembrandt was written in 1640. It was a time when the lifetime of the artist reaches the zenith of fame.
In 1639, Rembrandt moved in with Saskia bought for 13,000 guilders to Yodenbreestraat new home in a prestigious area of Amsterdam, where they lived, mostly wealthy merchants. He receives orders for paintings from the most influential and wealthy Dutch Stadtholder and representatives of families of Trip , de Graff and Witz. Thanks to, first of all, etchings, his fame went beyond the Netherlands, his paintings are bought by collectors and royals of Europe, such as England's King Charles I.
Among the dozens of
self-portraits, painted by Rembrandt, this stands out for its monumentality. Rembrandt shows it on your social status. He is dressed in fine clothing with fur, massive chain jewelry. Looking melancholic, with an awareness of their dignity. Background neutral, all the viewer's attention focuses on the figure of the artist.
In the lower right corner of the parapet is clearly visible signature Rembrandt f. and the date. Below the inscription affixed conterfeycel , which translates to an old-Dutch means "portrait".
An important fact is that the clothes on the artist is typical for the beginning of the XVI century, Rembrandt not only showed in its status as a self-portrait contemporaries, but also challenged the great artists of the XVI century: Durer, Titian and Raphael.
Rembrandt is very highly valued by Durer, a collection of his prints.
In April 1639, Rembrandt was present at the auction, when the Portuguese collector Alfonso Lopez bought a painting by Raphael "Portrait of Balthazar Castiglione." In Vienna, the stored image of Rembrandt with a sketch of the painting, where the fields Rembrandt made a note that the painting bought for a huge sum in those days in 3500 guilders. Lopez, who lived in Amsterdam from 1637 to 1641 years, and owned a painting by Titian "Portrait DzherolamoBarbarigo" which, apparently, Rembrandt knew.
The first attempt to create a self-portrait in the style of predecessors is etching 1639, only takes a head Castiglione Rembrandt folded over at a large angle, and position mirrors Titian.
The self-portrait of 1640 repeated characters pose paintings by Durer and Titian: All right hand rest on the parapet.
Chest X-ray picture shows that originally were on the parapet and the fingers of the left hand of the artist, and the collar has a rounded shape.