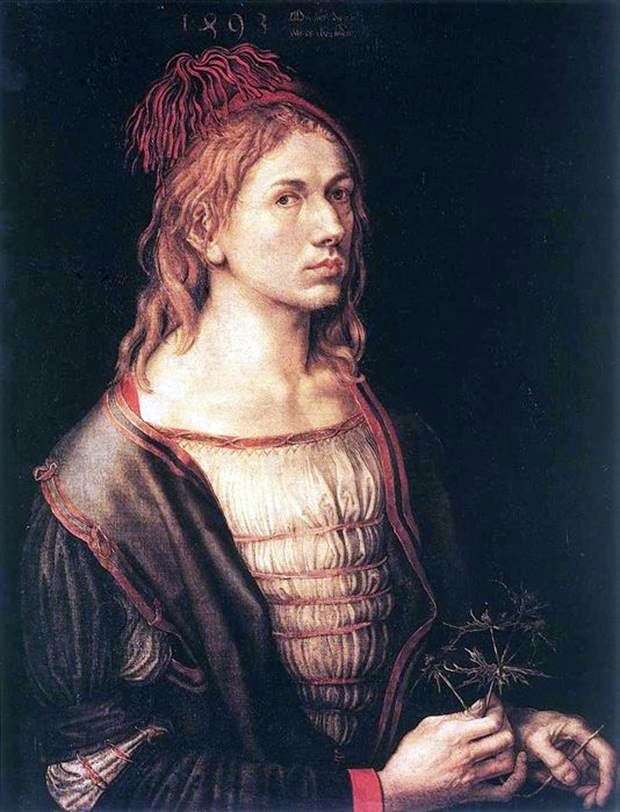 Albrecht Durer wrote many self-portraits. On this artist depicted himself at the age of 22, when he returned from distant wanderings. Wanderings of apprentices who have completed the teaching, have long been in the habit of European artisans and artists, so that they can get acquainted with fellow workers in other cities and countries.
A young face is beautiful and calm. His eyes were slightly skewed at the viewer – so it turned out, he was sitting sideways to the mirror. Long, bright red hair falls on the shoulders. They seem to be a flowing flame. And a fuzzy dark red hat also evokes a picture of fire.
A gray-green jacket with slits on the sleeves is trimmed with a red ribbon. The neck and upper chest are exposed, the clavicles are visible. Shirt of thin linen in exquisite assemblies and with reddish firmware. The tailoring and the color of the suit are smart. It can be seen that the tailor was dictated by the artist. Strong hands carefully keep the branch of holly – a symbol of man's faithfulness.
On a deaf dark green background the face glows, lips are burning, hair is flaming. Above the monogram of the artist and the inscription: "My business is going, as the sky commanded." The young artist is the groom. The father mated his bride. The son did not mind. In the handicraft environment their customs. Durer – Jr. is going to get the master's rights. A master must be absolutely married.
Interestingly, at the time of Dürer, the artists were artisans, it was a very respected guild. In Western Europe in the Middle Ages, the guild is a partnership, an alliance. And the art became a painting later and it was a long process from the Renaissance to the New Age.