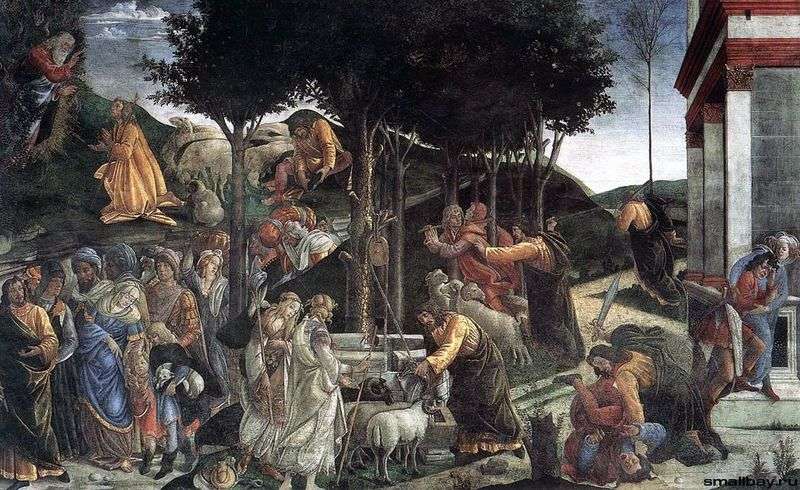 Fresco by Sandro Botticelli "Scenes from the Life of Moses". The size of the fresco is 348.5 x 558 cm. This painting of the artist tells about Moses, the Old Testament leader and the legislator of the Jewish people. Raised at the court of Pharaoh, Moses in righteous anger killed an Egyptian who mocked an Israeli worker. Then he fled from the vengeance of Pharaoh and came to Midiam.
Here at the well he defended the daughters of priest Jethro from the shepherds and watered their sheep. Moses married one of the girls, Zippor. When Moses was feeding the sheep of his father-in-law, the Lord called
him out of the burning bush and entrusted him with the mission to lead his people out of the captivity of Egypt, saving him from oppression.
In the last episode of the fresco, it is shown how Moses leads the sons of Israel from Egypt. Botticelli combines all these different scenes within the framework of the overall composition, building it according to the principle of cyclicity. Although each of the episodes can be visually isolated from the whole, they are treated in a language that includes elements of archaic conventionality. The lack of an impression of integrity from the frescoes may be due to the fact that while working in the Sistine Chapel, the artist was embarrassed by the scale of the painting and the unfamiliarity of the situation.
In the transfer of a number of motifs composing compositions, he manifests freedom and a wonderful fantasy. Botticelli expressively outlines the situation, human types, elements of architecture and nature. But this is an idealized world of antiquity, in its depiction the master does not adhere to archaeological truth. On the garments of the characters lies the seal of timelessness, and individual details resemble the modern Botticelli costume. And as individuals – in the majority they are beautiful, this noble humanity created by the imagination of Botticelli. It was such people who lived in antiquity, believes the artist. In the same light, he perceives the appearance of his contemporaries. The ideal appearance is given to all human types and ages – the elders, the young men, the women.