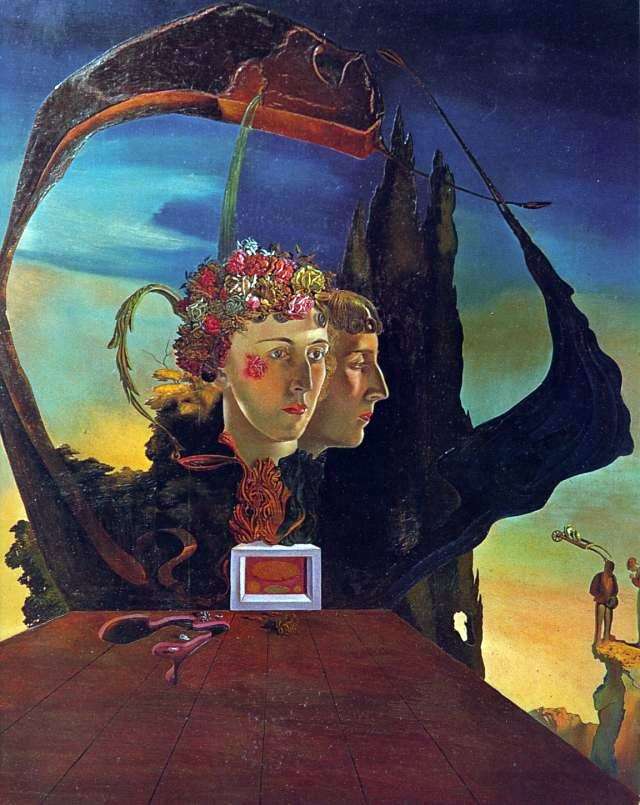 Hispanic Salvador Dali – the author of canvases of a surrealistic nature painted pictures strange in exposition. His creations, regardless of the genre, always differed in meaning, understandable only to the author, and narcotic dope. It would seem that the portrait – what can the author come up with where nature created everything in advance and left only "rewrite" the creation on canvas? However, here again Dali prevailed over the true nature of things. The portrait of the Viscountess Marie-Laura, the patroness of 20th-century art, was written by El Salvador at the time of his ordeal and
the final certainty of his own superiority.
The twenty-eight-year-old artist even then waved the title of "celestial", breaking the laws of space and nature. He painted his own Marie-Laura, similar to the original, yes, but strangely pulled out of the context of human female nature in the form of a lonely head.
The female head with fine features is disfigured in a butcher's style, although it is decorated with summer flowers. It resembles a poster of an anatomical cabinet – in full-face and profile, with the correct proportions and a perfectly "Tsvetaeva" hump of the nose. Why conceal your own bewilderment, perhaps, of the most ordinary person, not a critic and not a connoisseur, that the work is not understandable and simply shouts with meaningless objects.
Why this silhouette with the cart-head, why the casket, from which the image of the viscountess oozes? Thinking over the disparate details, consciousness collects them into a single picture, but the meaning in it is as much as the sense in the soft scraps of flesh in the foreground of the picture…
I would like to think that the work was appreciated by the lovely de Noai, perhaps with admiration, having received a certain annotation to the narrative of the work. Letting go of the meaning of the portrait, I want to say separately about the flawless technique of writing. Here, the good school of painting and, of course, the talent of El Salvador itself, the presence of its own style and sense of color.
Canvas Dali fresh on the paint, it's just airy, like all of his work. The portrait uses a win-win version of the background – it's a smooth surface and an infinite horizon, which creates a sense of flight and eternal movement. His disparate details, as usual, fly here and there. Somewhere on the horizon line the light of the rising sun turns pink. The distance is clear, but the reality is getting worse from the stone blocks, torn by the artist mercilessly. Like the embodiment of purity among the dampness of the countertop and the hard stone, the peach head of Marie smells of flowers – the hair of the head is angry for the critics.