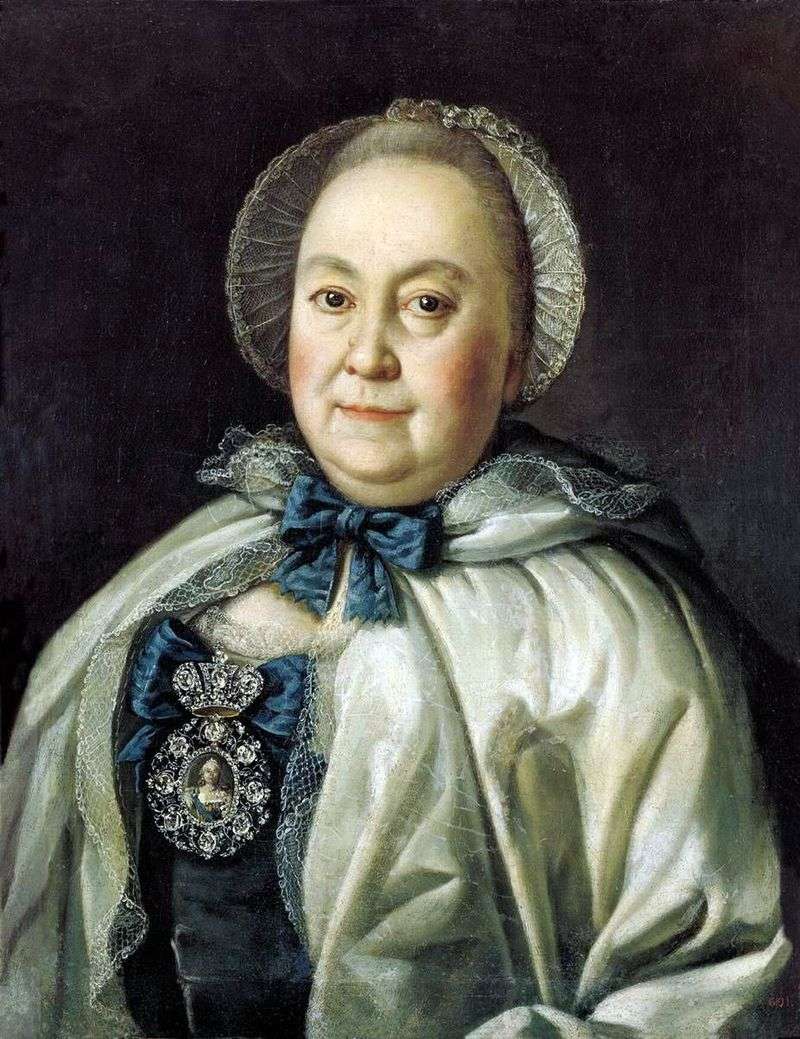 Maria Andreevna Rumyantseva, once a pretty, graceful girl with a lively and cheerful disposition, was Petr's favorite. There were rumors that the girl had a connection with the emperor; in any case, she herself loved to talk about it in her old age. The Sovereign, by his kindness, betrayed her for her orderly, later the general-anshefa and Count Rumyantsev. When the emperor was dying, Maria Andreevna was pregnant with her son, who later became famous commander Pavel A. Rumiantsev-Zadunaisky, who looked like Peter the Great. Countess M. A. Rumyantseva lived a long life and died in the ninetieth year, having lived until the time of Catherine the Great. Recalled by the highest honors at the royal court, she had a living mind, an acute memory and a mild temper to a very old age.
Contemporaries spoke of her as an interesting and lively woman and an excellent companion. In the portrait of MA Rumyantsev is an elderly, self-assured state-lady, who is in the retinue of the empress's empress. She is full of self-esteem, she is not burdened by the burden of past years. Maria Andreyevna used to say about herself not without a hint that she was "vielle comme les rues", which in a sense can be considered a stretch, because she was older than the St. Petersburg "prosecutions." The artist writes the energetic, full-blooded face of an elderly woman with a double chin, illuminated by the vivacity of the character: the mouth is slightly mocking and at the same time hard. Expressive are the eyes portrayed with a characteristic for Antropov glare – bright, shiny, slightly bulging.
The folds of the cloak lie clearly not in the shape of the body, but the right floor is uncovered unnaturally wide, and this is done deliberately. The seminal center of the portrait is the award-winning diamond empress. The ladies' mark on the chest of MA Rumyantseva is disproportionately large and unfolded in a plane to better be visible to the audience, who should appreciate the high position of the Countess – the oldest court lady awarded the Order of Saint Catherine, 1st degree, the Chief Hofmeister of the Highest Court.
Rumyantseva's sublime characteristics correspond to the color of her costume – gray silk, blue moire ribbons and silver. In the portrait there is one feature that links it with the icon and parsun script. "Personally, e" is written with small fused and indistinguishable strokes, and "dolichnoe" – on a dark, neutral background with a wide and free brush.