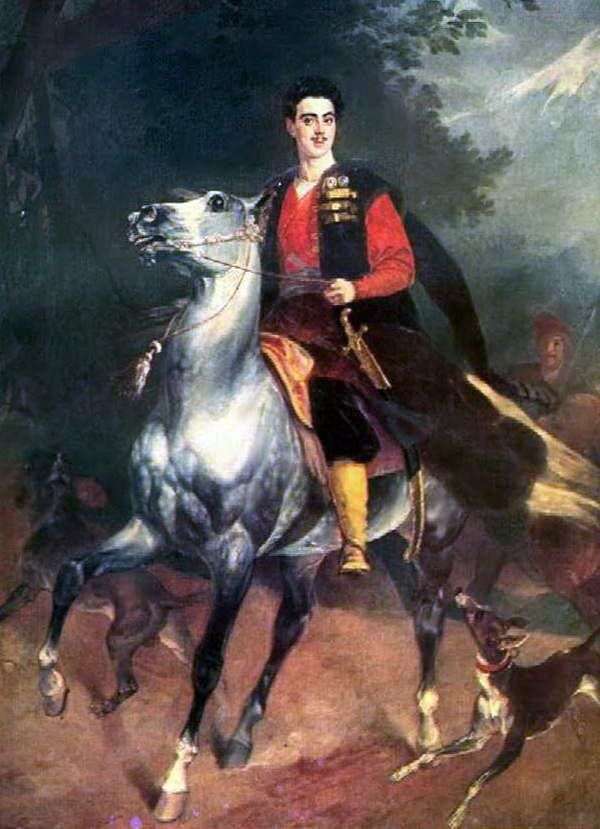 The famous ceremonial portrait of AN Demidov, a brush by Karl Bryullov, was transferred to the Florentine Museum of Pitti by Karageorgievich. This portrait is well known by sketches and preparatory drawings of the artist, stored in Soviet collections, as well as on reproduction, published in 1914 in the publication of S. Pokrovsky "Demidov Lyceum in Yaroslavl in his past and present." The artist worked on this work with interruptions for more than twenty years. The Urals tycoon ordered his portrait of Bryullov almost simultaneously with the painting "The Last Day of Pompeii."
MI Zheleznov
told about the birth of the idea: "Anatoly Nikolayevich Demidov came to Briullov in Naples and took him with him to Pompeii." During the inspection of this city in Briullov's head, I thought of writing a big picture and presenting the death of Pompeii on it. At the same time he informed Demidov and, it is necessary to think, that he informed her, as usual, with animation, eloquently and enthrallingly, because Demidov, after listening to him, gave him the floor to buy a picture he had conceived, if he wrote it.
"The last day of Pompeii" was completed in 1833. By that time, the portrait had only just begun. The artist, after a very careful study of the composition, the search for the most advantageous arrangement of the figure on the canvas, as the preserved pencil sketches and picturesque sketches say, soon cooled to the portrait and abandoned it, as happened to him more than once. In any case, in his letter to KP Bryullov dated May 4, 1844, AN Demidov wrote from Florence to Petersburg: "You no doubt remember that about ten years ago, during my stay in Italy, you began to paint my portrait, on which I was portrayed, in a boyar suit, my departure did not give me the opportunity to finish it. "
When in 1850 Karl Bryullov returned to Rome, from San Donato he received a letter from AN Demidov with a reminder of his unfinished work. "Dear Bryullov," wrote the nobleman. "I learned of your arrival in Rome, and being in such a relatively close neighborhood that it seems that I should only stretch out my hand to meet yours, I would like to be one of the first to greet you as old friend… I would like… to take advantage of your stay here to ask you for a favor that would have touched me very much.
Almost a quarter of a century has passed since you made one sketch from me: as I now see myself riding, in the forest corner, accompanied by a greyhound dog! You can not imagine the pleasure with which I would see this portrait finished, of course, with the help of your memories. After all, no miracle is able to return to us, even for only a quarter of an hour, the signs of youth that we had 22 years ago! "Bryullov listened to the request of the patron and agreed to continue work on the portrait.
This caused an enthusiastic appreciation of Demidov, who informed the artist of his plans in these words: "Upon receipt of this portrait, he will remain some time with me in San Donato, and then I intend to send him to a Paris exhibition that will soon open, and then on a permanent Viennese… Almost 20 years ago in Paris was your exhibition "Pompeia", which you made for me on your first trip to Italy, I am pleased to send today, again in Paris, a picture of your current manner, also written for me again in