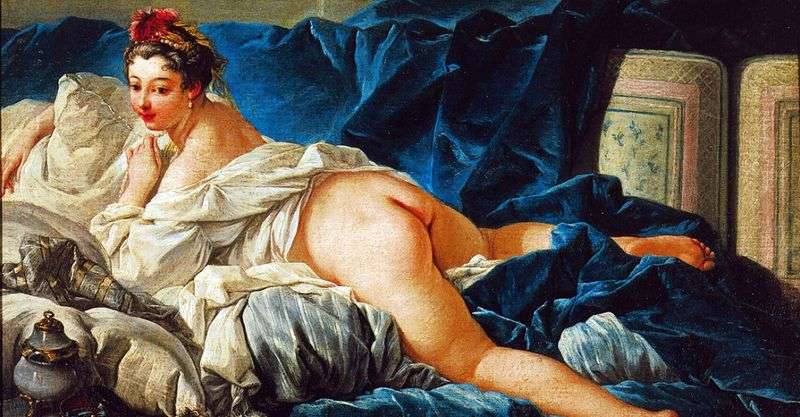 Painting of the French painter Francois Boucher "Odalisque". The size of the picture is 53 x 64 cm, canvas, oil. This portrait of a half-naked young woman is also known as the "Dark-haired Odalisque". A nude young woman lies on a bed framed with luxurious draperies.
Openly challenging, she flirts with the audience, peeping out of her boudoir. Painting Boucher – a kind of quintessence frivolous excesses of the mid-XVIII century, and he himself – one of the most consistent representatives of the Rococo style.
In his youth, Bush was strongly influenced by the works
of Antoine Watteau, many of which he engraved, and in the 1740s he secured the protection of Madame de Pompadour. Thanks to her influence, Boucher becomes the first painter of Louis XV.
Boucher was one of the most fashionable decorators in Paris, and his charmingly coquettish paintings on mythological subjects depicting nymphs and goddesses, were to please the tastes of those representatives of the higher society of Paris, whose elegant mansions he decorated. Ideally embodying the conventions of the methods of painting the Rococo century, Bush seemed to want to say in his paintings that nature is "excessively green and poorly lit."