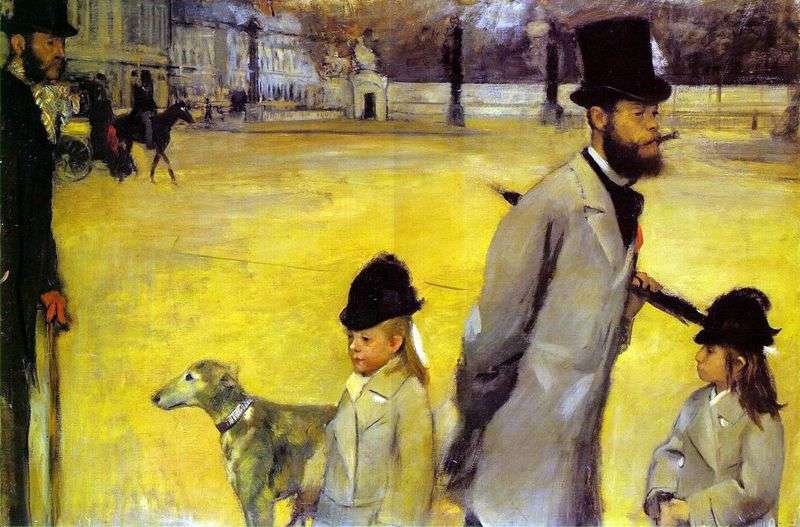 This picture is an important milestone in the development of not only French, but also European painting of the XIX century, primarily because before it anything similar from the point of view of composition was not created. She went through a difficult path of restoration and only recently, on May 19, 2012, was presented at the exhibition "Revived Masterpieces", which was held in the State Hermitage. The circumstances of the appearance of this canvas are still unknown, the exact date also. It is generally believed that the work was written in 1875, when Degas was at the peak of his work.
The
picture depicts Degas' friends, strolling along the most famous square in Paris – the writer Ludovic Alevi and the artist Viscount Ludovic Lepic with two daughters. Experiencing acute material need, the author sold his work to the viscount, after which it fell out of sight until the end of the XIX century – to her there was not a single preparatory sketch, no notes and letters. In addition to all the picture was cut off from below – in the very place where the artist's signature could stand. It is this circumstance that made identification difficult.
The second owner of the canvas – the famous gallery owner Paul Durand-Ruel – for a long time trying to sell it at a bargain price. In the end, the German collector Otto Gerstenberg showed interest.
At first glance, there is nothing special about the image of the viscount with daughters – the characters look quite at ease and calmly. However, in the composition solution there is a daring implication: the father and children look in opposite directions. Thus, the artist demonstrated a gap in the views of generations.