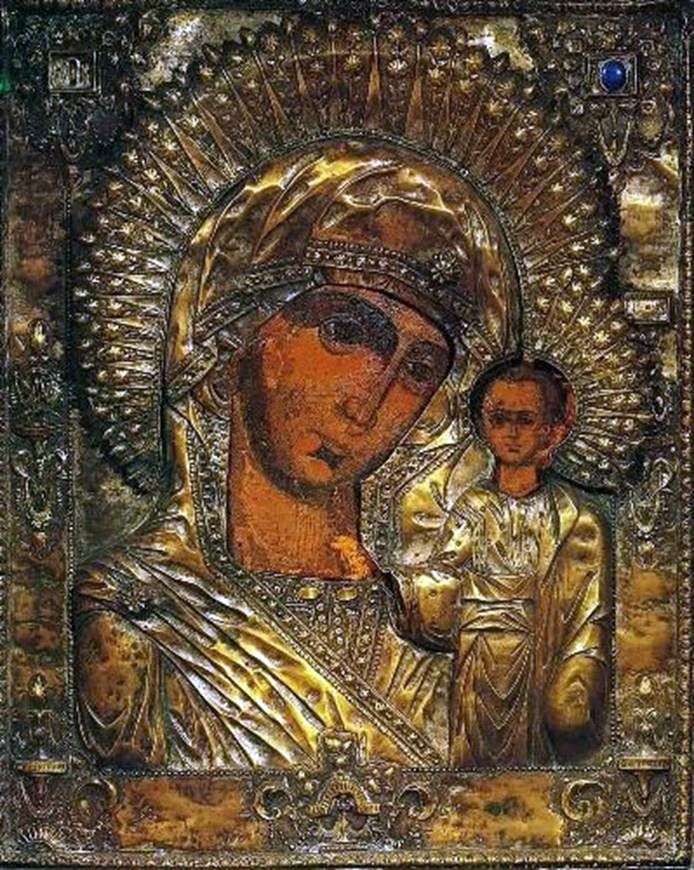 The miraculous image of Our Lady of Kazan was revealed in 1579. Brought into the Church of St. Nicholas of Tula, she became famous for many miracles, which are described by Metropolitan Germogen. In 1612, the icon was in the army of Prince Dmitry Pozharsky, inspiring Russian soldiers to fight with the Poles. Perhaps Kazan sent to Moscow a list of miraculous. The following information about the miraculous image is contradictory.
On one – it was installed in the Kazan Cathedral on Red Square in Moscow, on others – this list.
Presumably, the list that was under Prince Pozharsky's army was later transferred by order of Peter I to St. Petersburg, where he was later placed in the Kazan Cathedral on Nevsky Prospekt. In this work, the main attention is paid to the decorative processing of the salary, made in the traditions of the early classicism of the Pavlovian era. Rough chasing indicates, probably, the peripheral origin of the monument.
In the fields graceful garlands, flowerpots with flowers are harmoniously correlated with flowers on thin stems, strung between the finishes of the crowns of Mary and the Child. Celebration of the miraculous icon – July 21 and November 4 n. Art.