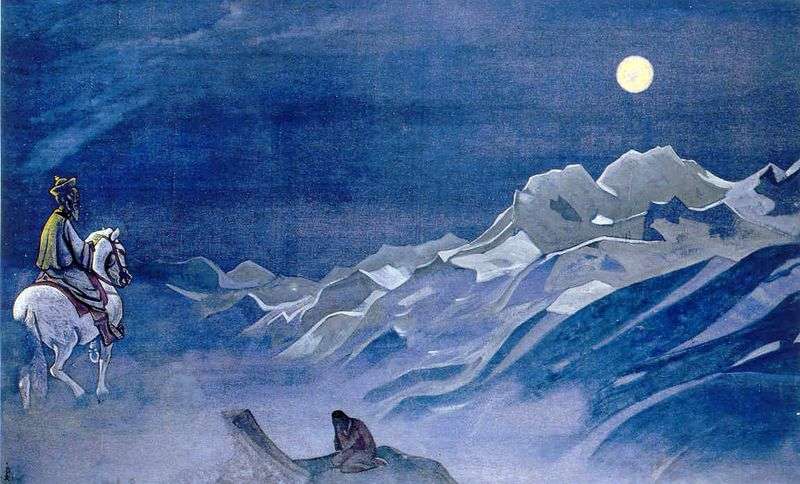 The painting "Oirot-Messenger of the White Burkhan" was painted by the artist in 1925, before the expedition arrived in Altai. Nikolai Konstantinovich attributed it to the "Banners of the East" series.
Khan Oirot, according to the Altai legend, is the last descendant of Genghis Khan and the last ruler of his empire. Oirot, mysteriously defeated by his opponents, disappeared with his warriors, but promised to return when the Belukha's outlines changed: "See the signs on the Sun and in the outlines of the three snowy peaks of the holy mountain of the Altai Katyn people."
Katyn-bash is a three-headed Belukha.
The basis of the theory of the White Burkhan lay not only the legend of Oirot, but also reliable events. It was here, in the valley of Kyrlyk, in 1904, the 12-year-old daughter of the shepherd Chet Chelpanov had a vision of the Blessed Oirot. And under the leadership of Chet Chelpanov himself, thousands of Altai gathered in the Derain log for prayers and watched the sun, waiting for the moment of the eclipse, as a sign of the prophecy of Khan Oirot. One of the signs, they believed, had already come true: in the same 1904, broken blocks of ice changed the outlines of the peaks of Belukha, and the Altai people were sure that the prophecy of Oirot would soon be realized and he was about to come. They said so: "The Altaians will soon have their own king!"
This is how Nikolai Konstantinovich himself wrote about these events in the book "Heart of Asia": "Mountains from Chuguchak to Altai become wilder and more wild. It is strange for the first time to see Oirot riders – the Finno-Turkic kind lost in the Altai mountains. Only recently this area full of beautiful forests, thundering streams and snow-white ridges, got its own name – Oyrotiya. The Land of the Blessed Oirot, the national hero of this secluded tribe. "
The picture of Nicholas Roerich in the blue-violet moonlight shine sharp glaciers and snow spurs of Belukha – the highest and most revered Sacred Mountain of Altai… On the rocky ledge she knelt by a young girl, covering her face with her hands, blinded by vision. Above, in the clouds, in front of her – a white radiant horseman – a majestic old man with an oriental face, in Altai attire on a white horse. This is Khan Oirot himself, a friend of White Burkhan, "the legendary ruler of Altai, who mysteriously hid from his enemies and promised to return and give the people a happy life."
Anxiously the girl listens attentively to the words of Oirot. There is a prophecy about the great bright future – about the imminent arrival of the White Burkhan – the Blessed Maitreya, about the New Epoch of Good, Justice and the Brotherhood of all people.