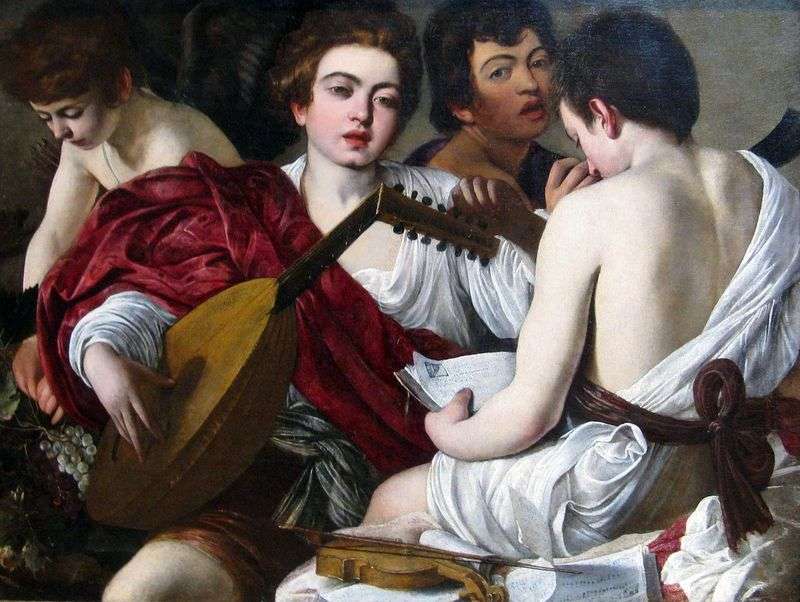 During the writing of this work, Michelangelo da Caravaggio was still young and, despite his impudent temper, led a fairly quiet life in the house of his patron Cardinal Francesco Del Monte. The time of dramatic events in the fate of the artist and his full of passion, the struggle of light and darkness of the paintings, which will have a strong influence on the whole of European painting, has not yet come. His paintings are still light and lyrical. They often play music, as in the presented work, in which flowering youth and sublime art merge in harmony.
The musician, sitting on the canvas with his back
to the viewer, opened the score. On it is visible the inscription, which should more precisely explain what is happening. This is not a rare device in the work of Caravaggio, but no one has yet been able to read what was written. The boy with the horn in the background is the earliest self-portrait of the artist who will often portray himself in his paintings, and this is the last self-portrait of Caravaggio, on which we see him serene.
In "Musicians" can still hear the breath of the Renaissance. But in the dense and complex composition of the work, in the swirled fabrics of clothes and draperies, those strains and light nervous shivers that distinguish Baroque art are felt.