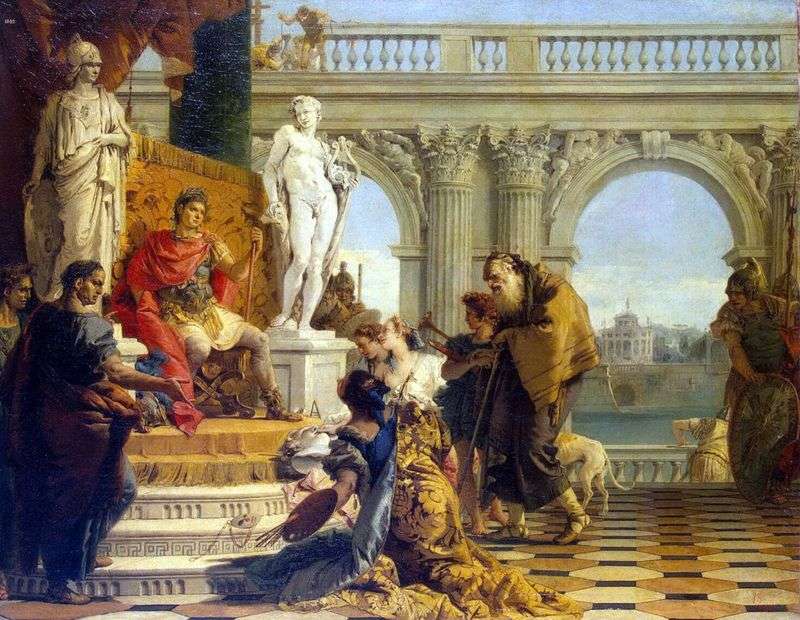 In the art of Tiepolo, compositional and coloristic perfection is combined with boundless creative imagination, masterly mastery of the drawing and careful study of the model – with the inspired gift of improvisation. Monumental and easel works of Tiepolo glorify ancient generals and modern European rulers or reproduce episodes of sacred writings and ancient mythology.
Tiepolo cloths are filled with air and light, thanks to this, the coloring in them acquires a special freshness and sonority. Wide manner of writing, generalized forms, the absence of small details give the artist's compositions monumentality, regardless of the size of the work. All these qualities are widely known picture of a small format – the best of Tiepolo's works kept in the Hermitage – "Maecenas presents free art to Emperor Augustus". The canvas depicts the Emperor Augustus, to the left – Maecenas, before them – Poetry in the image of Homer and three women, personifying Painting, Sculpture and Architecture. This work was commissioned by the artist in 1743, patronized by Tiepolo Count Algarotti, a writer and a scientist, a great connoisseur and lover of art.
Algarotti intended the picture as a present to Count Brühl, the Minister of the Saxon Court, who was an adviser on the art of the Elector of Saxony and the King of Polish August III. In the depths of the composition, Tiepolo portrayed Brühl's palace. There is no doubt that the work is allegorical in nature and represents in the images of Emperor Augustus and Patron-August III and Count Brühl. In the Hermitage the picture came in 1769 from the collection of Brühl. In the next century, she was in Gatchina, where she returned to the Hermitage in 1882.