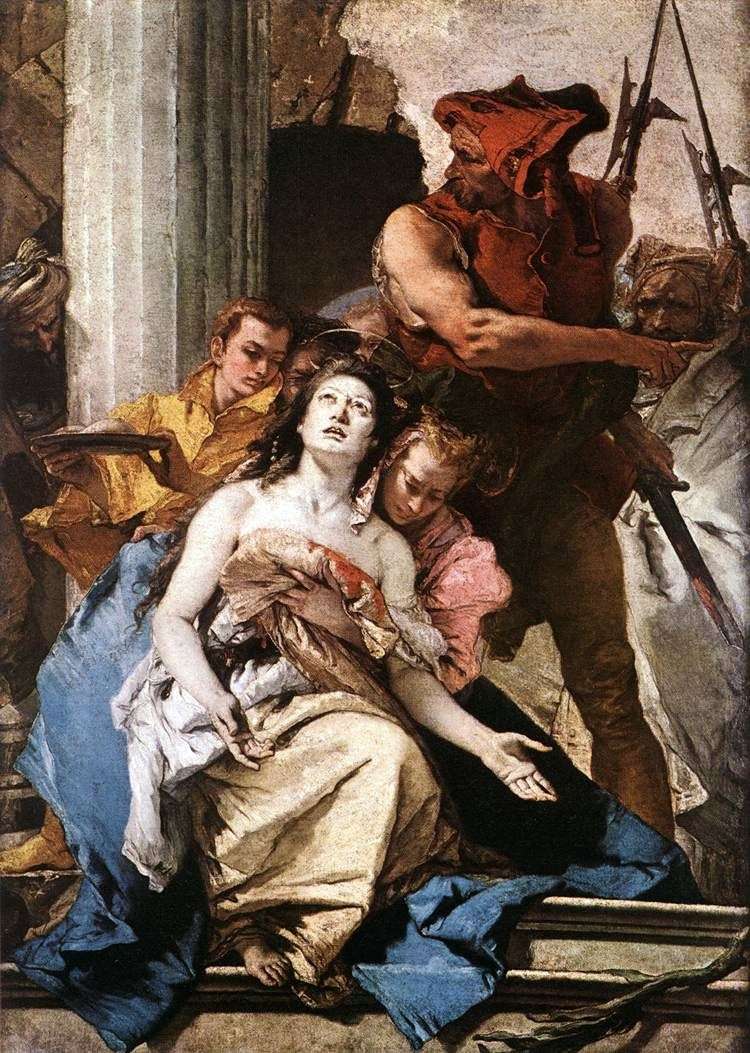 Tiepolo – one of the brilliant representatives of the Venetian school of the XVIII century, the largest late Baroque artist. He possessed a truly virtuosic ability of the draftsman. The artist's works are distinguished by unexpected foreshortenings and spatial constructions with free use of methods of air and linear perspective, thin light-and-air effects. The artist studied under G. Lazarini, studied painting by Titian, Tintoretto, Veronese.
He worked mainly in Venice and Northern Italy. In 1750-1753 Tiepolo painted the apartment of the archbishop at his residence in Würzburg, in 1762-1770 he performed the mural paintings in the royal palace in Madrid, which were the apotheosis of his work. In 1756-1758 Tiepolo was president of the Venice Academy of Arts. The master worked mainly as a monumentalist-decorator and decorated with murals a lot of palaces and temples.
The artist also wrote for palaces and temples paintings, altar compositions. "Martyrdom of St. Agatha" – one of the characteristic works of Tiepolo. It has easy-to-read foreshortenings and poses of figures, light is the main thing in the image, the work as a whole is very dynamic. Around the saint is horror and sorrow, but her gaze is directed to another – to "heavenly" – and is far from earthly suffering. Other famous works: "Death of the D-dona." The Pushkin Museum. A. S. Pushkin, Moscow; "Maecenas presents free art to Augustus". OK. 1745. The Hermitage, St. Petersburg.