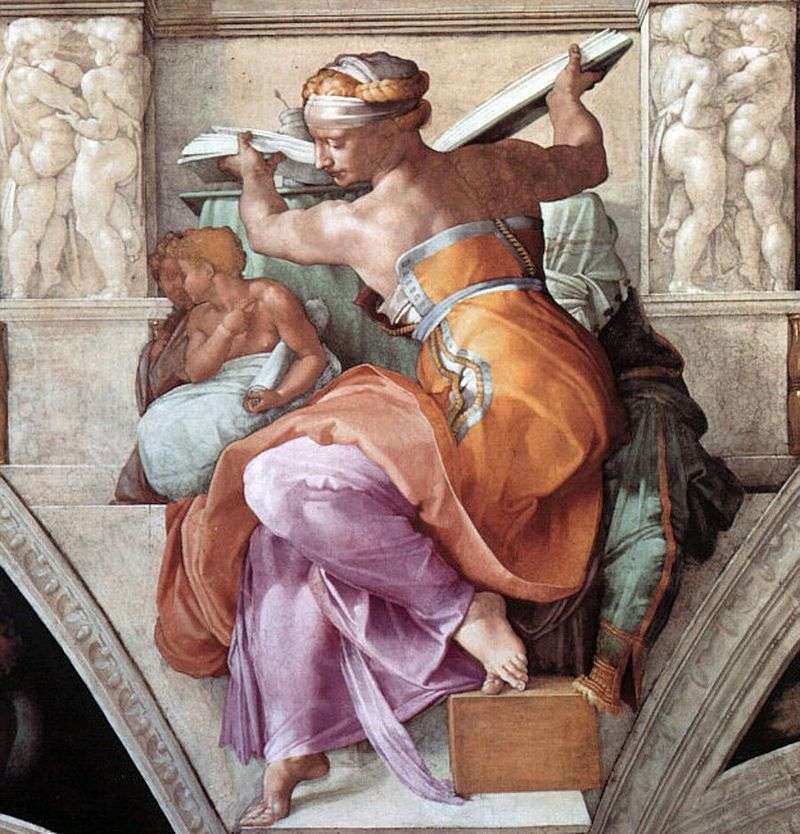 The Libyan Sibyl, fresco by Michelangelo Buonarroti, a fragment of the Sistine Chapel painting. Sibyls in ancient Greece called wandering prophetess, who offered everyone who wants to guess the future and predict fate.
As a literary character of the Sibyl, it appears in medieval literature and iconography, symbolizing the intuitive comprehension of the highest truth and the future. According to one of the theories, originally "Sibyl" – the personal name of one of the prophets, for the first time this character, according to Plutarch, is mentioned in Heraclitus. Then it was transferred to
other prophets. According to Varro, the word Sibyl is translated as "God's will." Sibyl Libyan – reproaching people in worship and service to idols, traveled in Samos and Delphi.
Sibyl is called Libika, Liviana, or Libyan, because she was from Libya, which is the third part of the universe, called Latins by Africa, and now the Turks is called Varvaria. She was of medium height and very black, and always carried an olive branch in her hand. On the scroll at the statue of the Libyan Sibyl in the Summer Garden is the inscription: "REGNABIT DEUS IN MISERICORDIA", which means – "The Lord will reign in charity." The Libyan Sibyl personifies wisdom, beauty and movement, again the very eternal movement that is born by the will of the Creator and which then the artist's genius subordinates to himself, locked into the framework of the most perfect composition.
According to the biographer of painters Vasari "… the most beautiful figure of the Libyan Sibyl, who, writing a large volume composed of many books, wants to stand up in a feminine pose and intends to both get up and slam the book: the most difficult thing, if not impossible, for any other than her creator. "