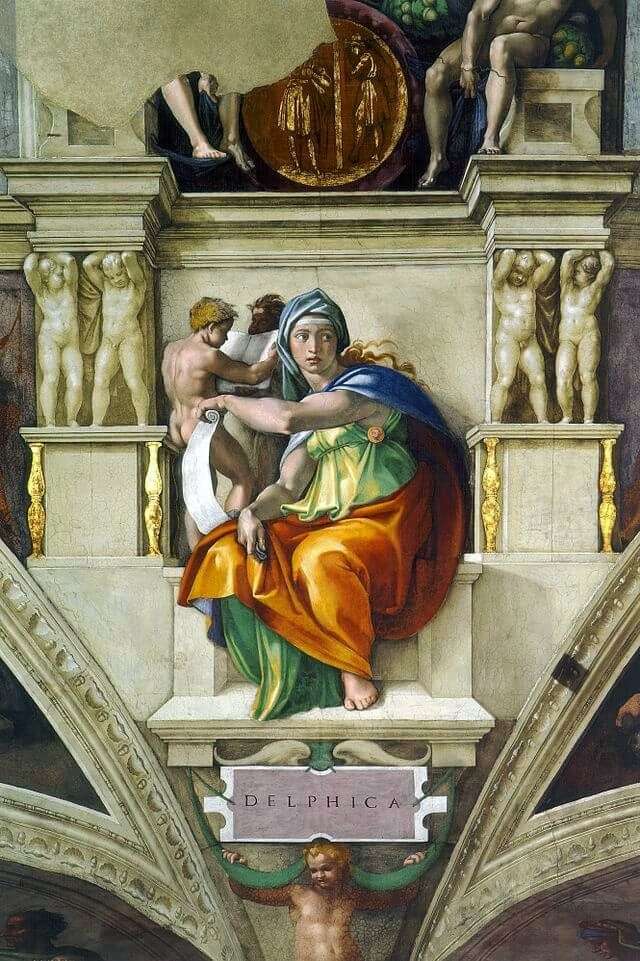 The Delphic Sibyl, fresco by Michelangelo Buonarroti, a fragment of the Sistine Chapel painting. The work on the ceiling that lasted for four years was not only a spiritual but also a physical feat by Michelangelo. These years, day after day, he was on the stage and, reclining in an uncomfortable position, worked alone, allowing a few assistants only to rubbing and mixing paints.
In one of the poetic messages to his friend Giovanni da Pistoia, he described what physical sufferings he had undergone, four years reclining in an uncomfortable position on his back, so that "the Syrian turned into a bow of
a curve". In addition, Julius II constantly hurried the artist and so bothered him with sudden visits to the Sistine Chapel that Michelangelo sometimes, pretending not to notice the Pope, frightened him by dropping the boards down.
Delphic prophetess first in antiquity received the name of Sibyl. According to ancient legends, in the opinion of ancient philosophers, Homer extracted some wise thoughts from the prophecies of the Delphic Sibyl. The Delphic Sibyl is an inspired young and beautiful prophetess, with eyes looking into the future.
This maiden can stand the world on her shoulders. Giorgio Vasari wrote: "And besides, there is another Sibyl, which, being turned to the altar on the other hand, shows several written scrolls and, along with its fetters, deserves no less praise than the others."