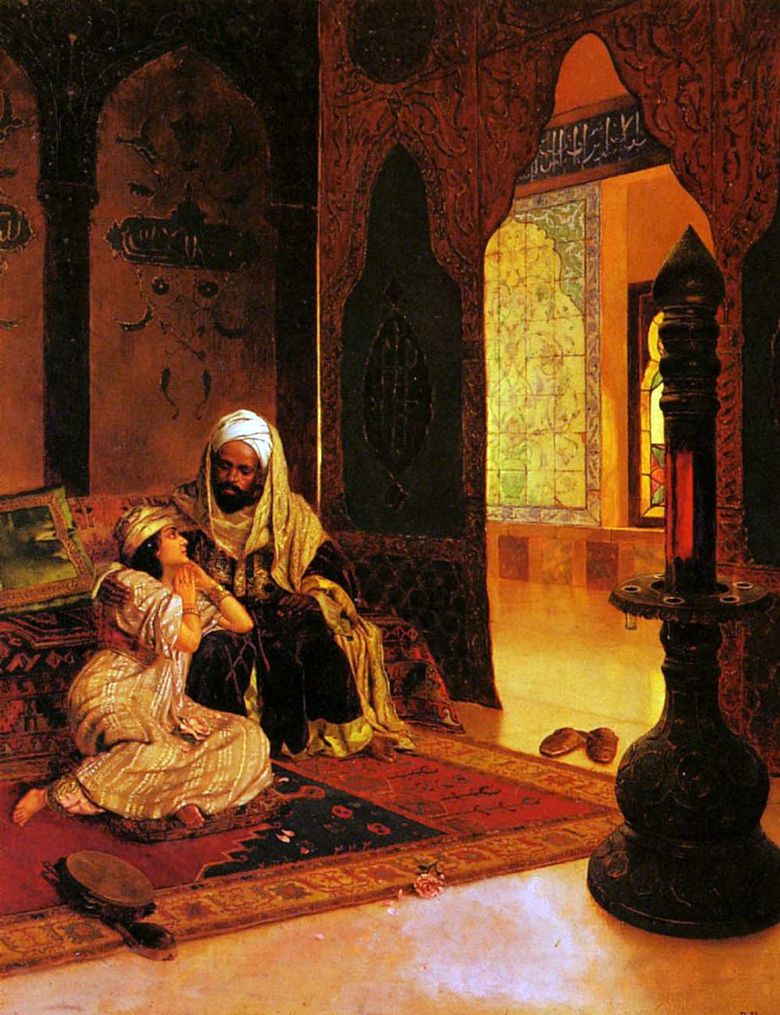 Le harem préféré orientaliste autrichien Ernst Rudolph a préféré écrire des histoires avec une saveur orientale. Malgré la soif d'impressions et d'intérêt pour l'Orient, sa soif de sujets marocains et persans n'apparaît qu'à l'âge de trente ans. Jusque-là, Rudolf Ernst vivait à Rome, puis à Paris, où il peignait calmement des toiles familières aux Européens. Depuis environ 1885, Ernst se consacre entièrement au Moyen-Orient, dépeignant des scènes de la vie des sultans perses, de la vie des pèlerins africains, des ensembles architecturaux et d'un paysage sensuel.
Canvas Favorite of the Harem a été écrit par Ernst sous l'influence des voyages orientaux. L'auteur connaissait la vie du harem pratiquement de l'intérieur, effectuant de nombreuses "sorties" à Constantinople, en Égypte et en Turquie. Les ornements complexes sur les murs et le tapis, sur lesquels se trouvent les personnages principaux, témoignent de son observation et de son écriture de l'original, nous y reviendrons un peu plus tard. Faites attention aux nombreuses arabesques complexes des mosaïques en céramique et des peintures murales. À certains endroits, la palmette persane et un dessin orné complexe, transmis avec précision par l'artiste, "voient à travers".
L'abondance de couleurs bordeaux et rouge carmin confère au "Favorite" une saveur poivrée. L'espace sombre inspire au spectateur l'intimité à laquelle les personnages sont attachés. Il y a beaucoup d'ombre crépusculaire et profonde, bien qu'il soit clair que le soleil perce les vitraux avec des rayures colorées. Harem oriental. Qu'est-ce que l'auteur savait de lui? Certains harems totalisaient plusieurs centaines d'épouses et de concubines. Ernst n'a pas cherché à dépeindre les atrocités ou la luxure du maître.
Au contraire, le maître interprété par l'auteur est doux et sensible, avec ses traits durs et sa fatigue évidente. La façon dont le corps du mari est incliné et la révérence des gestes de son favori, vous pouvez juger la conversation intime des personnages. Le silence oppressant et la fraîcheur font l'imagination dessiner un dialogue complètement modeste de personnes dans un demi-murmure.
La toile entière est parsemée de préfixes "semi": crépuscule, ombre partielle, midi, conversation à demi-ton, etc. Ernst a doté les héros d'une idylle familiale parfaite, comme s'il n'y avait pas une foule énorme de femmes de différents âges dans les murs du palais. Peut-être est-ce le seul qui donne des conseils à son maître, donne un amour désintéressé sans exiger la renommée et les encouragements en retour?