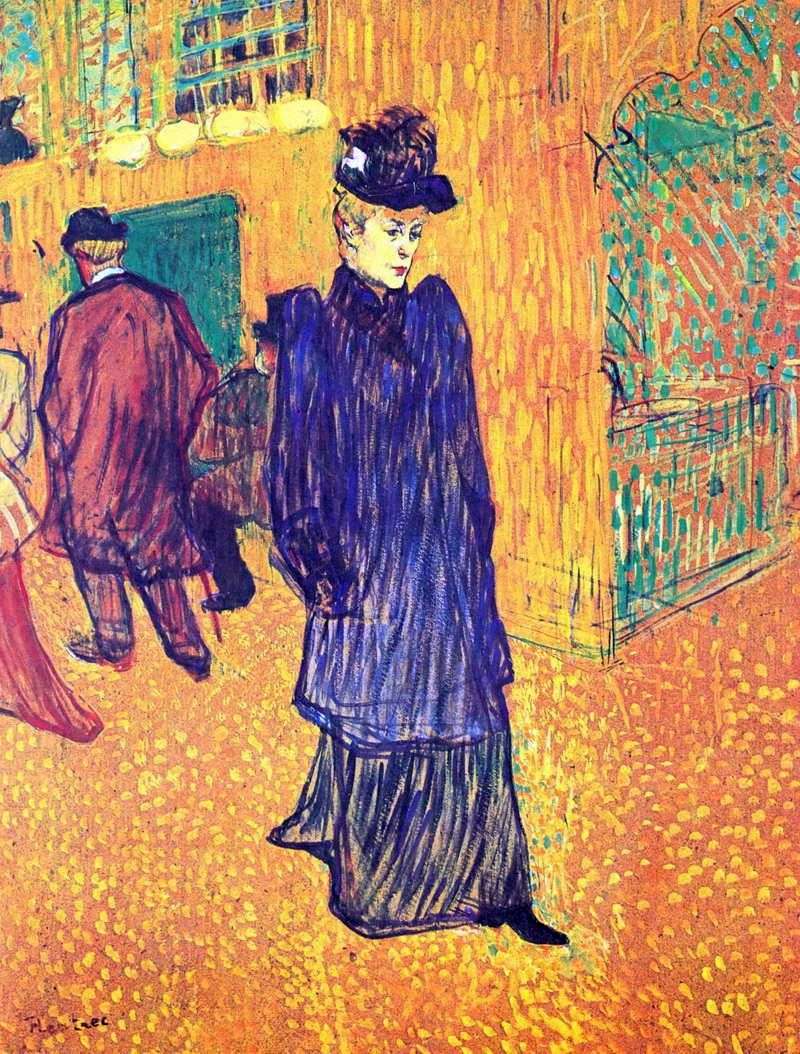 In the Moulin Rouge, Lautrec could not take his eyes off Jane Avril, a small, beautiful, fragile woman with the sad face of a "fallen angel," with a melancholy gaze and circles under her eyes, which further emphasized this melancholy. It was a refined nature, endowed with some special aristocracy: the color of dress and linen in her was always matched with an amazing taste. Jane Avril danced alone, without a partner, and completely surrendered to the power of music and rhythm, with a frozen mysterious smile, "dreaming of beauty," throwing her legs in one direction or another, almost vertically, performing clear pas, your soul.
Jane Avril – her name was also La Melenit – was not at all like other dancers and very attracted Lautrec. She was the illegitimate daughter of an Italian aristocrat and a former half-light lady of the Second Empire. In her childhood, she suffered from the rudeness of her mother, an unbalanced and perverted woman, whose external charm could not hide even her lovers from her irritable, hard character. This former coquette was unable to live with the need. She then fell into a depression and she began a persecution craze, then came into an excited state and she was seized by megalomania. She took her unfortunate life to her daughter, terrorized her, threatening her with terrible punishments, if she wants to complain to neighbors or scream. She sent the girl in the yards to sing and beg. Unable to withstand, Jane ran away from home,
After this, the girl was returned to her mother, who began to push her into prostitution. At the age of seventeen she escaped again and did not return, having kept her disgust for "all low, vulgar and rude" for life. She had patrons, but she never sold herself and made novels only with those she liked. Music and dance became her refuge. First she worked as a rider at the racetrack on Alma Avenue, then a cashier at the World Exhibition in 1889, then came to the Moulin Rouge, where she was warmly received by Zidler. Lautrec also had friendly feelings for this morbid, impressionable young woman with an unhappy face, turquoise eyes, a crowd of girls who called her Mad Jane. They considered her a stranger. She knew the pictures and books, she had good taste. Its refinement, refinement, culture, in a word, the "spirituality" was singled out by Jane among the Mulen Rouge merchandise, who, as usual, hated her for it. At La Gulya dance was a manifestation of sensuality, animal instincts, expressed in rhythm, which created her a vicious glory. The dance of Jane Avril is filled with thought – it was the language by which it was explained in the world.
Lautrec reveled in the elegant na, a harmonious combination of colors of her costumes – black, green, purple, blue, orange – she was one of all the dancers "Moulin Rouge" performed not in white lower skirts, but in colored ones – out of silk or muslin. He wrote it endlessly, fascinated by its peculiar face, restrained and therefore, strangely enough, especially attractive, giving it an "exhilarating" charm, vicious, as some have assured, or as Arthur Simons wittily defined it, – the charm of "depraved virgin ". Lotker wrote it performing a solo dance, with a raised leg, then coming out of the Moulin Rouge. In one picture, she wrapped herself in a wide mantle, put her hands in her pockets, on the other, she pulled on her gloves. And every time the artist pays special attention to the painful, thoughtful,
Lautrec's friendly feelings for Jane Avril found her complete reciprocity. Captivated by the talent of the artist, she willingly agreed to pose for him in the studio, often playing there as a mistress. She often dined with him at the famous restaurant of Latuil, on Clichy Avenue, and came to him at the Brewan's cabaret. Perhaps Lautrec was so enticed by Jane Avril because in it he was not interested in a dancer, but in a clearly expressed personality, which usually attracted him so much. Quadrille, judging by the pictures, less and less fascinated him. The dance ceased to inspire him. Indeed, in all the scenes in the Moulin Rouge – they are numerous and varied – he almost never depicts a whirlwind of dance. And where, after all, Lautrec turns to the quadrille, he passes the moment when the orchestra has not yet started to play and the partners with a defiant look are standing still against each other.