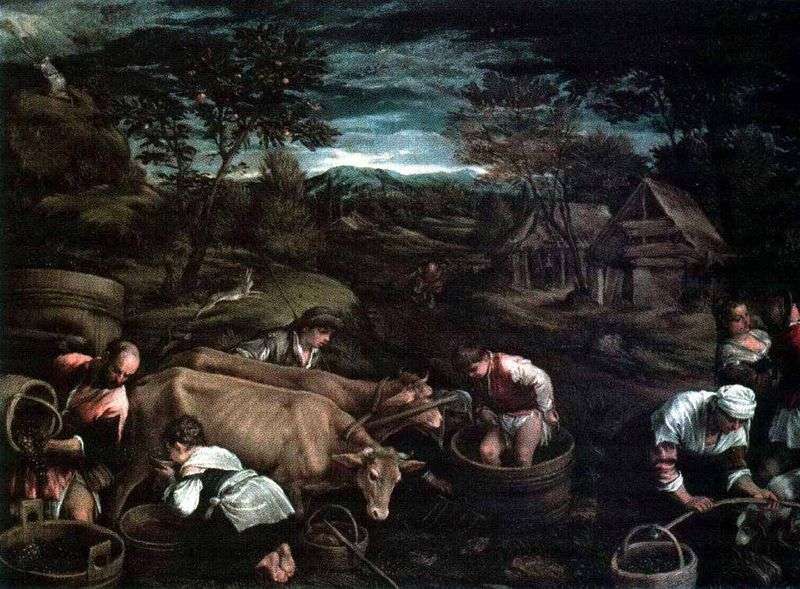 Rural scenes – this is perhaps the most original part of the creative heritage of Bassano. They are undoubtedly connected with the pastoral tendency "that began in the Venetian school even in the time of Giorgione, that is, in the first years of the sixteenth century, and Titian's brilliantly developed later." With all this, to none of the Venetian painters of the mid-16th century, an appeal to peasant themes would not have been so natural as for Bassano.
Almost all his life spent in the provinces, he could not ignore the surrounding reality. And if his contemporaries, the Venetians, still remained in their pastoral paintings by the townspeople, then Bassano himself was a countryman to the marrow of bones, and therefore his rural scenes are so authentic, so full of genuine freshness and immediacy of perception.
The artist does not hesitate to write the bare feet of the peasant woman so coarse as they really are. Not lost in the image of pets, it is easy to distinguish between tree species. But not only in the authenticity lies the charm of peasant Bassano paintings.
Thinly feeling the poetry of the everyday, the artist at the same time sees for her something more magnificent. His pastors are nostalgia for the Golden Age, a memory of the times when Adam plowed and Eve spun. "To see this, it's enough to look, for example, at his Harvest or Pastoral.