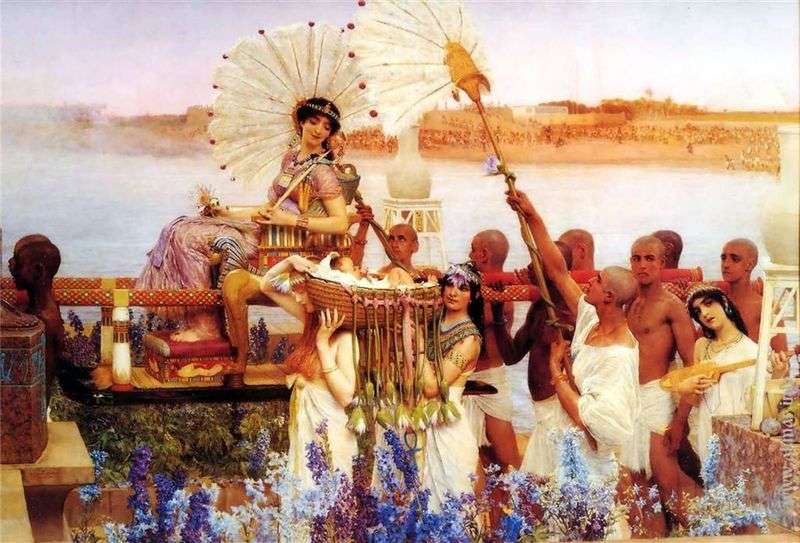 In 1902, Sir John Erd, an engineer, invited the artist to accompany his expedition to visit Assiut and the Aswan dams that his firm had recently developed in Egypt.
At the age of sixty-six, Alma-Tadema left his family in London and at the end of November undertook a difficult six-week expedition.
Namely, inspired by this expedition, Lawrence Alma-Tadema painted the picture – Finding Moses.
Alma-Tadema worked for two years on this huge canvas to create one of his greatest paintings.
She received very good reviews at the summer exhibition at the Royal Academy, and was bought by Erdom for £ 5,250.
Perhaps this was the influence of 'scenery and props', which he developed for different productions in the theater for several years.
This was one of his most successful works at the time. Inspiration came from the poetic lines of William Wordsworth.
One of the paintings he borrowed back for display during the Royal Visit period was the recently completed Silver Advantage picture, but King was most impressed with the newly begun work of Finding Moses.
The reason for the Royal visit is unknown, but apparently this was the result of the fact that less than two years later Alma-Tadema was presented for the "For Merit" award.
Although he tried to go deeper into his painting, but being a devoted family man, he found that distance from the family hindered his concentration on creativity.