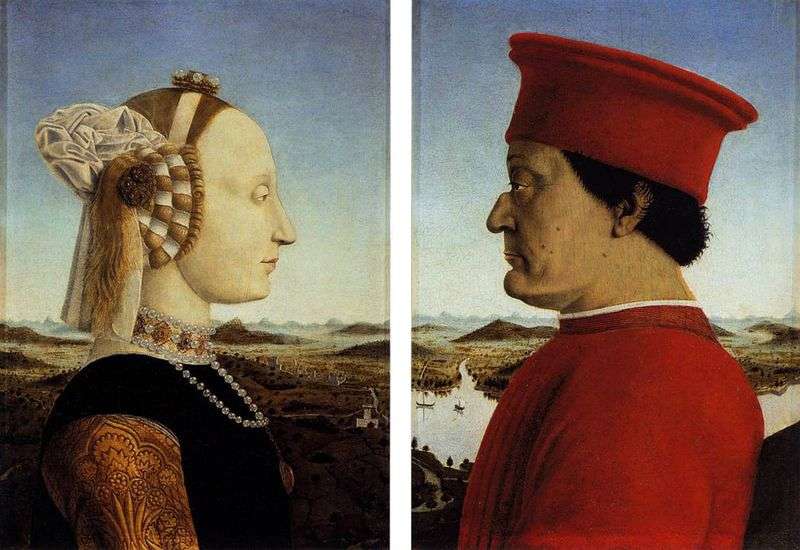 The Italian master of the early Renaissance Piero della Francesca began his career as an artist in Florence in 1439 as a student and assistant of Domenico Veneziano.
His acquaintance with the works of Dutch masters, which he had the opportunity to see in Ferrara at the Court of Borso d'Este, where he worked in the 1448-1450s, and in Urbino at the Court of Federigo da Montefeltro, was important for him. The artist was associated with humanistic circles and represented a rare for the XV century. type of painter, erudite, scientist.
The master wrote altar images, was engaged in monumental painting, turned to a portrait, but his artistic activity was interrupted in the mid-1470s, according to Vasari, because of the blindness that befell the artist. The presented portrait – the only work of the master in this genre, the authorship of which is reliably established – occupies an important place in the history of the art of the portrait of the 15th century. Piero della Francesca departed from the stylization inherent in this genre, giving his models a majestic appearance.
The paired portrait required the construction of a single perspective, and instead of traditional techniques, the artist used landscape lines for this purpose. Other famous works: "Madonna della Misericordia". OK. 1448. Pinacoteca, Sansepolcro; "Christmas". OK. 1470. National Gallery, London.