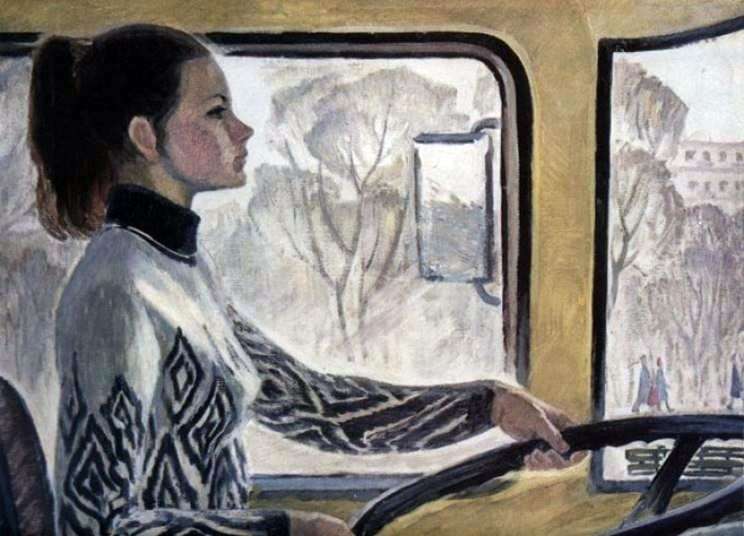 At all times there were different ideals of women. At one time, the artists praised the magnificent female forms, and in another the exquisite beauty of slender grand ladies. The painting "Driver Valya" is different, the Soviet era. At this time, women did not want to be housewives, but wanted to work on a par with men. They mastered those areas of activity in which previously only men were involved. So is the girl Valya, the heroine of the picture works as a trolley bus driver.
Her whole appearance suggests that she is a serious, courageous and fearless girl. Her dark hair is gathered in a high
tail. This hairstyle does not interfere with her work. The head is raised, lips are compressed, and the look is fixed on the road. She always monitors the situation on the road and is ready to find a way out of any situation. Her slim graceful female hands confidently hold the steering wheel and turn the steering wheel in the right direction.
The rigor of the girl emphasizes the black and white sweater with a geometric pattern. The driver keeps his back straight and proud, apparently, this profession is like Valery. With such a serious and diligent driver, passengers can not be afraid of anything. The trolley has a large rear-view mirror, looking at which the girl assesses the situation on the road.
In the driver's cabin, large windows that open the view all the way. In the windows you can see trees whose leaves are already turning yellow, which means that it is autumn time outside. And Vali's sweater indicates that the weather is cool. A young girl is so thin and graceful that having met her on the street, you will not believe that she works as a driver. It seems that she just recently graduated from school, she is so young and graceful. She has a beautiful, well-defined profile, slightly upturned nose and brown eyes. She is a real Russian beauty and it does not fit in with the male driver at all.