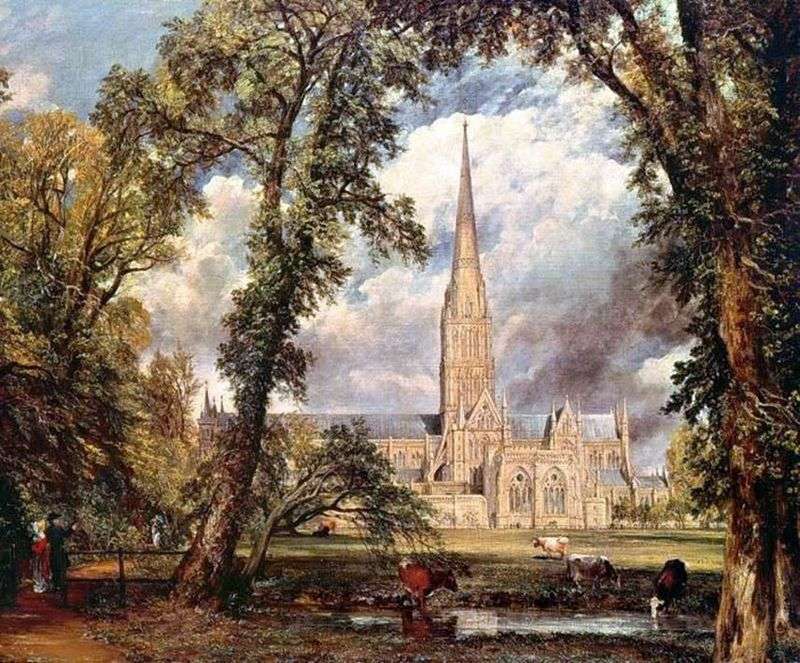 In the summer of 1820, Constable, along with his family, visited his friend Archdeacon John Fischer in Salisbury, where, along with many sketches and sketches of Salisbury species, the artist performed several paintings depicting the famous Gothic cathedral.
In the next few years Constable repeatedly returned to this motive, depicting the cathedral from different angles. The surprising variability of these works eloquently testifies to the talent of the master, his ability to capture the elusive beauty of the moment, the nuances of mood. As with other landscapes, Constable takes an image of the same object in different weather and under different lighting conditions.
The repeated repetition of the cathedral in Salisbury, as well as the creation of variations on other themes, attests to the artist's desire to capture something fleeting, to record the volatility of the surrounding world. The picture is clearly divided into two planes – a dark front and light rear, which depicts a dazzling white cathedral.
The view selected in the picture is noteworthy in that the trees create an additional frame of the cathedral and, like Hogarth's Self-portrait, a semantic game of "picture in the picture" appears. Figures of a man pointing to the cathedral with a cane, and his companions depict the bishop and his wife. The impression of a rural idyll is emphasized by figures of cows peacefully chewing grass in a meadow or drinking water from a small pond.