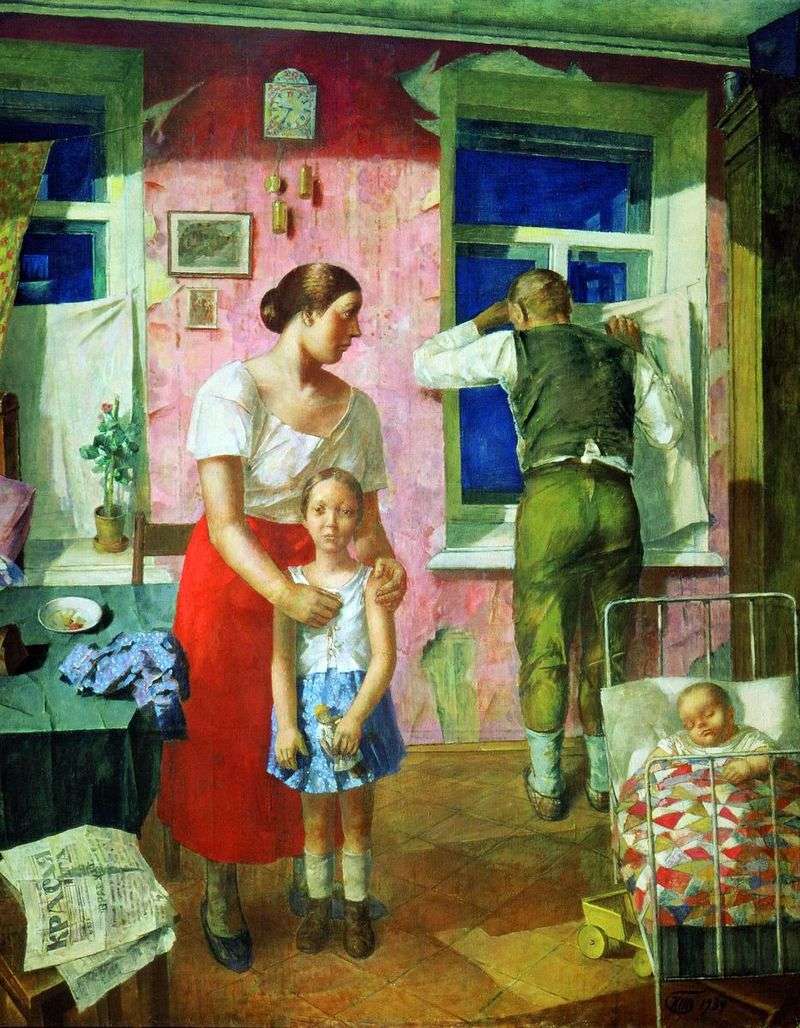 "Anxiety" – the memory of a pore, when the world was not only fierce, but also beautiful, reminds of the October 1919 issue of the Red Gazette. A watch painting time is reminiscent of a clock showing nine hours thirty-four minutes – 1934. The artist saw: "The country that could be a paradise, became the lair of fire" – but stoically accepted it as an inevitable test. Nothing can be seen in the window, which Petrov-Vodkin has always been a window into the world, a way of combining external and internal space: "the universe is a deaf place." Great time has stopped. The space is closed.
From the monograph by V. Kostin. After he managed to suppress a lung disease, Kuzma Sergeevich, starting in 1934, began to work again, and first of all for new historical and revolutionary compositions, which he considered to be paramount in his work. This time he recalled the alarming days of 1919, the time of the civil war, when in many cities the citizens passed power from hand to hand, especially the workers, usually waiting for a sudden raid of white gangs at night, vigilantly followed the silence in the city.
Based on his early drawing of the 20s, resurrecting these alarming nights, the artist made several more sketches, until he finally found the most correct solution to the painting "1919. Anxiety". It consisted primarily in the image-coloristic sound.
Light pink and blue colors in the room create a feeling of comfort and modest human happiness. But the intense dark blue color of the night in the window bursts into this atmosphere of peace, like a wake-up call, and this striking contrast causes an alarm. This sensation, of course, is also caused by the wary pose of a man peering out the window, and the frightened gesture of a woman holding a girl to herself. If in some previous paintings the system of trichromaticism fulfilled to a large extent the task of harmonizing color, in the composition "1919. Anxiety" the trichromatic already fully serves the meaning of the work.